Buying a Bounty Hunter BHJS Junior Metal Detector
After seeing how much fun my pal Tony had with his grandchildren after he purchased a couple of inexpensive metal detectors, I was determined to introduce my grand kids to the "art" of hunting for buried treasures. It did occur to me that this could be a great method of instilling some responsibility in the kids, as my plan is buy a couple of Bounty Hunter BHJS Junior Metal Detector machines and use them as a reward for completing a weeding session in our communal garden.
I'm a firm believer in introducing kids to a pastime such as gardening at an early age, but do see that gardening simply for the sake of gardening has little appeal to youngsters. Without an effort to put some fun into it, I could see enthusiasm waning as the drudgery of weeding and hoeing sets in.
Researching the best Metal Detector
Though I guess you could find these at department stores, I'm an inquisitive guy, and research things well before I buy, and for something that I know nothing about, I knew I'd have more questions about metal detecting than some junior shop assistant could answer.
When faced with digging up good information on something I have little knowledge of then Amazon.com becomes my best friend. This time it was no exception. Amazon sell a wide variety of metal detectors, and as usual each model has it's own page just packed with images, descriptions, features, advantages and benefits, all along with great shipping deals and super competitive pricing.
A Pleasant Winter's Day
I had a basic idea of what I needed, as Tony had warned me of making the mistake he'd made of buying an adult sized metal detector and trying to get 5 & 6 year olds to handle it & have fun. His first purchase was relegated to his own use as it was just too tall and cumbersome for the little guys.
So, on a winter's day, my laptop & I went shopping.
First (& last) stop: Amazon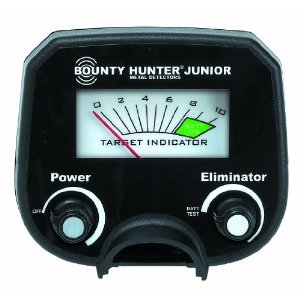 The Bounty Hunter BHJS Junior Metal Detector model immediately caught my eye. This is a detector that is specifically designed for kids. No fancy bells & whistles that little ones could never understand, lightweight enough that they wouldn't tire out, yet sufficiently robust and powerful to rival even the expensive models.
The detection alerting system is simplicity in itself. The closer you get to a target, the noisier it gets. Kids love the racket, it's exciting and riveting. No dials and meters to confuse little guys.
Detects coins and similar sized objects up to 5 inches deep, so it's more than adequate for finding Poppa's buried treasures, yet it can detect bigger items that are up to 3 feet deep.
Really lightweight and well designed ergonomically. The Bounty Hunter Junior Metal Detector weighs just a few pounds and is just 57″ in height.
No more rechargeable battery station required, as this baby runs on 2 inexpensive 9v batteries, and lasts a long, long time with a fresh pair. There's even a built in battery tester, so it's easy to determine if you need a new set.
A simple to use "discrimination control" that allows the user to easily eliminate reading from iron and other unwanted items. This is a "once off" setting, and is the one setting that may require some assistance of a parent or a Poppa.
These won't break the bank
Note I said "these"? At under fifty bucks each and with Amazon's free shipping there's no reason to have kids scrapping over who's turn it is to go treasure hunting. Just buy two, and you still won't have broken $100!
This is where I found all the information on the Bounty Hunter BHJS Junior Metal Detector*
To say I'm looking forward to summer, and burying some coins in amongst the rows of carrots and beets, and watching little guys excitedly searching as their reward for a row's weeding, would be an understatement. Not only will the kids be having a blast, but they'll be learning a bit about effort and reward as I'm a bit of a tough old bugger, so it'll be no weeding, no treasure hunting.
You never know, I bet I'll be borrowing one and looking for the wedding ring I lost in my own garden 15 years ago!
*Please note the link above directs to amazon as I have found they offer great deals on the Bounty Hunter BHJS Metal Detector.
Posts related to My Bounty Hunter BHJS Junior Metal Detector Purchase