Talking about the best wheelbarrow in today's article, reminds me of a time when I was quite young around 12 years of age, my dad decided to redo the backyard where we lived. At the time, I distinctly remember what seemed like the biggest pile of dirt I had ever seen in my young life. Yup, my dad basically said, "you boys (my older brother and I), get busy and spread that dirt evenly in the backyard".
This brings back fond memories when I was child, despite the times we had to do some hard work. What I remember about that period, is using this old clunky red wheelbarrow. When you piled up the dirt even past the 1/2 way point, it would immediately be off balance. We struggled constantly while trying to move it from one place to another. Having said that, this brings up today's article all about finding the best wheelbarrow.
Everyone who spends anytime working in their yard, will find themselves needing a wheelbarrow sooner or later. Whether you have to haul dirt, leaves, mulch or plants, Marathon Industries has built a great tool for gardeners. Designed to evenly distribute the weight of your load, you can move medium to light loads without any problem. This green yard roving wheelbarrow is made to last with a rust free, poly tray, dual air filled tires and a cushioned grip handle to make your work go faster.
Benefits of the Marathon Industries 70015 5-Cubic-Foot Green Yard Rover Wheelbarrow
Rust proof poly tray lasts a long time
5.0 cubic foot tray reduces the number of trips you have to take and cuts your work time
Easy to assemble, requires only 8 bolts which are included
Cushioned Loop handle for safety and comfort
Dual 13-inch, air filled, pneumatic tires provide stability
Powder coated steel frame assembly
Received 4.3 out of 5 star rating from customers
>> Click Here For Current Prices and Customer Reviews *<<
Made for the residential gardener, this wheelbarrow is lightweight and can move up to 5 cubic yards of debris at a time. This means fewer trips to dump it out when you are pulling weeds or moving other material around the yard that you've worked hard to rake. Moving that truckload of mulch just got easier, because the 13 inch pneumatic wheels are positioned perfectly for balance and make turning corners, lifting and turning a cinch in tight spots.
The powder coated steel frame stands up to the rigors of weekend work and the cushioned handle keeps you from slipping and protects your hands from blisters. Working with a friend of mine over the years pouring concrete, I understand and can appreciate the value of a well constructed wheelbarrow. I have the calluses to prove it too.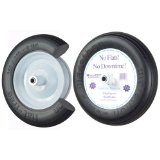 Easy to assemble, this wheelbarrow moves equipment or debris with ease. Firewood put into the tray will not cause it to fall over as the dual wheels keep it balanced and upright. The large air filled tires move easily over various types of terrain. The entire Marathon product line is geared toward ease of use and maximum dependability regardless of the task.
User Reviews of the Yard Rover
It was a little difficult for to get put together at first. The instructions were clear and the parts were all there, it just did not want to go together. However, assembly problems aside, this little baby has been a workhorse around the house. One user was completely charmed by the ability to use this over a large area. The center of gravity is perfect and the large capacity gets the work done quickly.
Another user found it to be better than a standard wheelbarrow. They was used to move 3 yards of dirt all around the house, which made it easier to use than the old one-wheeled type. Even with a heavy load, it was easy to wheel around. The key to that is the balance you get between the two extra-large wheels. The tub is very thick poly and allows me to dump it cleanly in the exact spot that the load should go.
A user in Southern California says that it is not super heavy duty and it does not stand on its end very well but, when it comes to work around the house it is the best we have ever had. This is a good purchase and I would recommend it to my friends and family.
*Please note the link above directs to amazon as I have found they offer great deals on Yard Rover wheelbarrows.