At least 15 years ago we tore down the little 12′ x 12′ deck at the rear or our house and built a decent sized one out of treated wood, complete with a nice pergola and a trellis wall.
Once completed it was amazing how quickly it became THE place to spend family time during our short summers, and it became very obvious that our haphazard collection of old deck furniture was in dire need of upgrading or renewing.
Patio Furniture shopping the old fashioned way
This was before the days of cruising through websites like Amazon, seeking out snazzy models and doing some comparison shopping with an iPad, so it was off to the city and spend a day shopping. I recall my wife and I doing two or three Saturday's in all the right department stores and garden centers and coming back confused and empty handed – nothing seemed to jump out at us. It seemed what we could afford was too flimsy & trashy looking, and what we really liked was either out of our price range, or was more furniture than our house really warranted, usually both!
Solid resin furniture that's a little "different"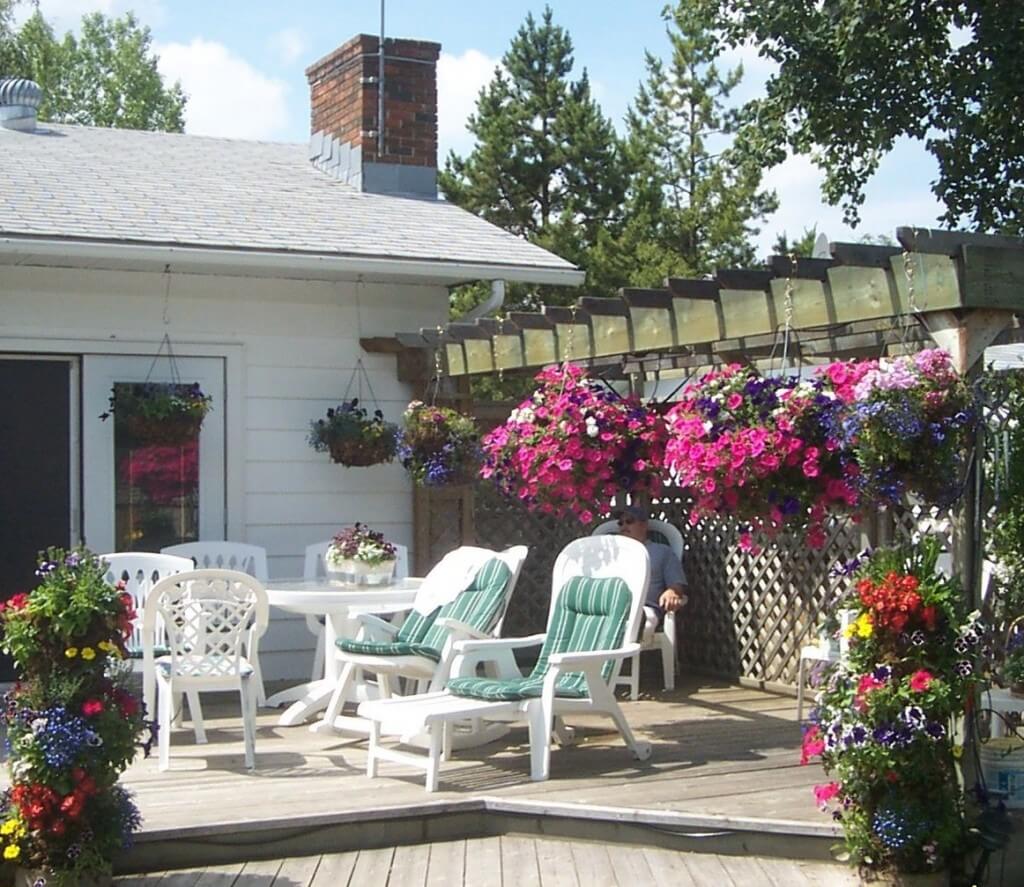 In an obscure part of the city we finally found a quirky little shop that sold a variety of "different" outdoor patio furniture and on display they had this table and chairs set constructed of white resin material. Now this was not the cheap, flimsy type you commonly see in the big box stores – you know, the type with stackable chairs so wobbly that you shudder every time cousin Eddy plops down on one. No, this was a set made of really solid material, sturdy chairs, a nice round glass topped table, solid umbrella stand, all in a gleaming white resin material. In the showroom were some add ons that really caught our eye – also from the same manufacturer, also really well built, and something we'd never seen anywhere else that were the deal maker; a pair of great lounger chairs for us, and an adjustable rocking chair for when Gramma came to visit.
Resin patio furniture that not only looks good but is rock solid
The lounge chairs are unique in that they're a combination of a nice low slung chair that has an adjustable back, operated by simply lifting the arms, and a kind of ratchet system lowers the back to a multitude of positions, from upright as a chair to laid right down as a lounger. What really sets this piece apart however is a "foot stool" that is operated by reaching under the seat of the chair and pulling out of it and it extends so you can sit will your legs comfortably elevated, or recline the back and you have a full length lounger.
It came with cushions that were made from an attractive but tough nylon type covering. I have no idea what material the cushioning was made from, but you could leave them out in a pouring rain, and within an hour or two they'd "drip dried" and were dry enough to use. They never faded, never ripped and lasted for years – until they just plain wore out a year or so ago.
About our only complaint
About the only complaint I have with this set of outdoor patio furniture (and it's not really the furniture's fault) is that over time the resin becomes discoloured and a bit grungy. Compounding this is they reside on the deck under the pergola, and hanging from the pergola railings are usually a dozen or so hanging flower baskets that get watered daily. Often they get over watered and end up dripping on the furniture where a nasty black mould forms. It seems that it gets worse each year too, and even my usual springtime pressure washing isn't getting them looking as gleaming as they used to be.
We actually considered replacing them this spring as they really were showing signs of too many winters stored outdoors, too many "baths" from watering the hanging flower baskets, and they really were getting grungy. However whenever we looked, we just couldn't find anything comparable. The Strathwood Outdoor Furniture Collection
currently available is about the only line we've seen that is of comparable quality to our old set.
Cleaning our resin furniture with the help of Google
That's when the age of the Internet came into the picture as a quick Google search for "how to clean resin furniture" returned a variety of methods, many we'd tried with sometimes mediocre results, but after a little trial and error we found this to be the best way to clean resin furniture and I do believe our old resin patio furniture will be gracing our deck for many years to come!