When attending an Agricultural Show with a buddy last fall, my friend stopped by a booth and chatted with the exhibitor for a bit. While Don was talking with his friend, I perused his exhibit, & have to admit I was a bit surprised at what he was selling.
Rocks – but not just any rocks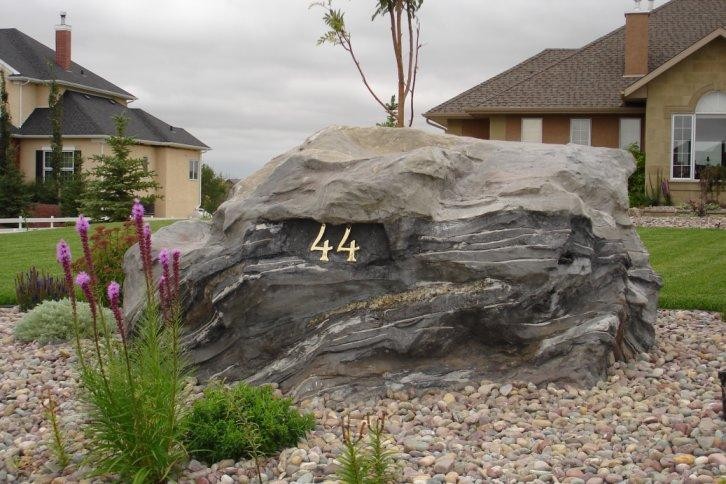 These were very attractive, decorative rocks in all shapes & sizes, beautifully coloured, and looked like real rocks. But they were so "perfect", they couldn't be! You'd think they were hand carved even.
Well, they were!
A couple he had on display were about 5ft in diameter, and designed to act as gate "sentinels", a rock that you placed at the entry way to your drive, complete with house number and name.
There was one display model that illuminated at night, thanks to a built in solar panel & light!
I was intrigued! Turns out my pal knew the exhibitor well, and of course introduced me. Dale was his name, and the next hour or so I eavesdropped on him as he explained his wares to the many visitors that stopped by his exhibit.
Artificial Rocks – Uniquely Hand Crafted , Hand Carved and a Real Work of Art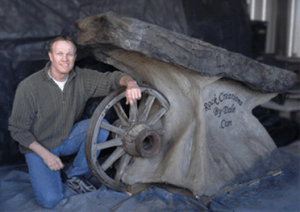 Unlike cheap moulded resin or plastic artificial rock, these are remarkably similar to real rock, only much lighter. Back in 2003 Dale ran a landscaping business and started designing and creating his rock creations.
When he found real rocks both expensive and heavy, and almost impossible to find in the shapes his clients wanted them, (especially in rock such as sandstone, granite and marble), he had an idea…
Like many great products the idea was born from thinking, "there's got to be a better way"!
He's found numerous uses for his durable and life like artificial rocks such as:
rock septic lid covers
artificial rock gate entries
artificial rock signs
artificial rock cliffs
artificial rock caves
artificial rock fountains
artificial rock ponds
artificial rock steps
Get rid of that unsightly septic tank lid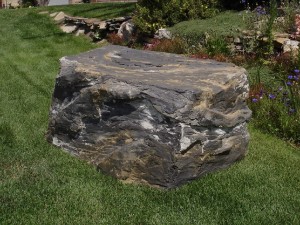 One of the most sought after creations is a hollow septic tank lid cover, that can be custom crafted to any shape, size or colour and strong enough withstand whatever elements Mother Nature throws at it. The ugly concrete septic tank lid just disappears under the rock cover, and it'll blend in with any landscaping perfectly.
Fascinated with Fossils?
Take a look at the photos on Dales's Website. The garden accent's he produces are frequently requested as petrified wood pieces or fossils. Pretty much if you can visualize it, Dale can make it a reality.
Creating a calming effect with water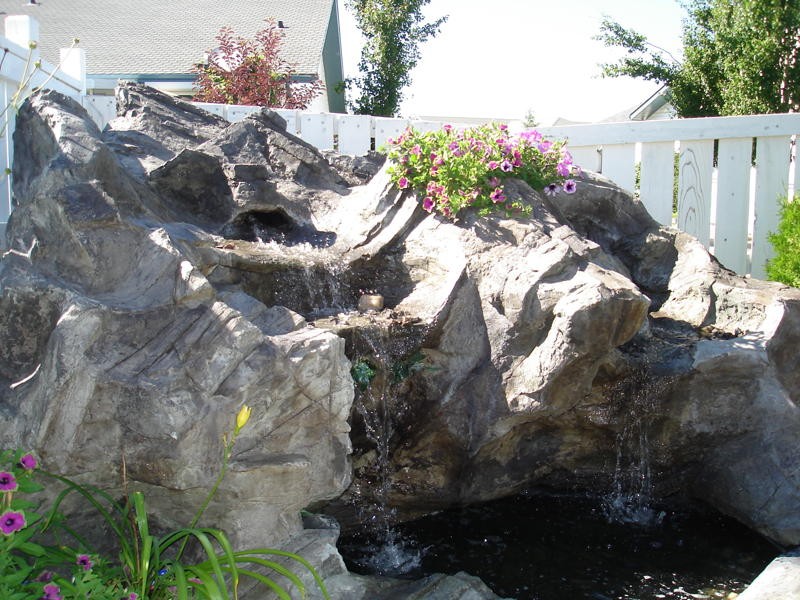 Create a tranquil environment in your backyard with the calming effect of water cascading through a fountain or a pond. With artificial rock construction, a masterpiece can be constructed just about anywhere , as the proper placement is easily achieved. The soothing sound of running water can be a reality, inexpensively & easily. Ponds and fountains have been created within decks, in backyard corners, amidst greenery and as a centrepiece for large yards.
Dream it and he'll create it
Bringing originality to any space is Dale's goal. Want a spectacular "cave"? It can be done. Need the perfect piece for your rock garden? You bet. How about a mountainside, maybe a cliff as a measure of privacy for your family fire pit area, or maybe as a screen for your outdoor hot tub. Heck, what about a rock lid cover for the hot tub?
In preparation for this article I asked Dale….
What makes your artificial rock creations so different?
In Dale's own words….
The biggest difference between the different types of artificial rocks is the method of production.

The other guy's – mass produced

When a company mass produces, e.g. septic lid cover rocks, they make a mold, then they spray it with fiberglass. Once the fiberglass is removed from the mold they spray the exterior with cement and pat it with a couple of colors.

For larger projects they build a rebar frame, tie metal lath onto the rebar and use a method called "gunnite" where they spray a powder cement that mixes with water just before leaving the nozzle. Someone comes along behind patting the cement and carving a few cracks etc. Then they pat on a few colors.

My method – one of a kind

In the case of the septic tank lid, I make a rebar frame and attach the metal lath. I then apply colored cements in various layers. Allowing time for the cement to reach different stages of hardening, I then use various methods of manipulating the cement (all self taught by trial an error). I'll then add more colored cements to fill in desired areas. Many of the units have as many as 20 different colors.

Another difference between my lids and the mass production lids is the fact that an adult can even stand on my lids without them even cracking. I have even jumped on a few and found that no harm came to them.

Mine are a bit heavier but an advantage is that kids or strong winds can't move them.

I make ridges near the top so that you don't have to reach down to the bottom when moving them, and this allows you to keep your back straight and just bend at the knees. You also don't pinch your fingers because you don't have to grab on from the very bottom.

Where as a company can pop off 50 to 100 units per day mine take a full day just to make one. The difference is the realistic result and the fact that every one is unique. The same method goes for the large projects. I get to match desired colors.

Not for everyone

My work is not for everyone. It's for the perfectionist who find it important to look the best and who appreciate value and want something that's going to last a long time. I have some great ideas for signs at gate entries that make it obvious that the people chose something more than just a rock. They invested in a piece of artwork, something the neighbor doesn't already have.

Usually a rock only looks good on about 1/2 of it's surface. I get to make the rock look good everywhere, like you found the perfect rock.
What do these cost?
As each rock is custom made to your specifications, there are no set prices, but Dale has sold artificial rocks from a few hundred dollars to many thousands of dollars, it really all depends on your wishes and your budget.

One comment he consistently hears is he underprices his products, especially when compared to landscaping with real rock products. Often just the transportation and manoeuvring into place of heavy natural rock is more than the rock itself.
Where are they made?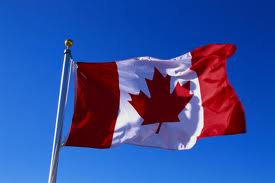 These are all hand crafted at Dales' facility in Alberta, Canada, and can be shipped anywhere in Canada & the US. For larger projects Dale can come to you, and build on site even.
How do I get more information & contact Dale?
Again, these artificial rock creations are made to order, so the best way to see what Dale can do for you is to check out his website here =>
Rock Creations By Dale
Use the contact form on the website & Dale will give you a call to discuss your requirements. Alternatively, you could call him directly, his contact numbers are all on his website.
Make sure you tell him "Big Granite" sent you as he has a special offer you won't want to miss.

I recall being thoroughly impressed with Dales's products that day at the farm show, and knew immediately that many readers of Big Granite would appreciate being introduced to the variety, the one of a kind uniqueness, and of course the high quality of everything he produces. I hope you give him a call.