Everything has it's day, and last fall our old tiller joined the "big old junkyard in the sky". It'd been an OK machine, not great, lot's of trouble starting it each spring, and pretty heavy & cumbersome to operate, and way to heavy for me to ever move it from it's place out on our big family garden at Gramma's place.
Struggling with a less than perfect machine all those years did give me a good idea of what I needed to look for in my next tiller purchase. This past winter I recalled all those features and made a list of my "must haves", which formed the basis of a winter's research, and ultimately why I chose the Mantis XP 16″ Tiller/Cultivator.

The List
In no particular order, here's the "essential features" followed by the "nice to have" features that I came up with, along with the reasons why that feature made the list's cut. From there is was relatively simple to put some checks against the different models I was looking at, and pretty soon a clear winner popped up.
The Essentials
Throttle Activated Centrifugal Clutch
So what the heck does that mean? Well, in layman's terms this means that the XP's tines won't start until the throttle is squeezed, essentially providing both speed control and an instant shut off right at your fingertips. Couple that with true variable speed control means you can operate the tines as slowly of as fast as you wish, with the peace of mind that you'll never be dragged along behind a runaway tiller!
Lightweight
As I have a smaller garden at home & participate in a big communal garden at Gramma's farm, I needed a tiller suitable for both places, and that was light enough for me to pick up and place on the deck of my pickup truck. At just 34lbs the Mantis XP 16″ Tiller/Cultivator was light enough that my wife could handle it in a pinch.
16" Tilling Width
The larger plot actually needed a decent tilling width, not so important for my little "townie" garden. The XP has a neat feature, where you can simply drop off the outside tines and, presto, you have a 9" swath, perfect for the delicate job of tilling between vegetable rows.
Reliable and easy to start engine
I'm not a tinkerer, so any motor I own needs to start on the first pull or two. The XP has a nice quiet 35cc, 4 stroke Honda engine that is actually a "commercial grade". I've owned other items that had a Honda motor, so I was pretty comfortable with their reliability.
Powerful little beggar
The soil out on the farm has a clay base and can at times be pretty compact and tough to get through, just like getting through old sod almost. The power from the commercial grade Honda will cut right through this stuff!
10" Tilling Depth
Not only is this nice to be able to get down this deep in the garden, this feature is great when you're planting shrubs or trees that require some hole digging. It's a whole lot easier when the initial 10" is tilled I can assure you.
Reversible Tines
Actually a patented feature on Mantis tillers, this allows you to dig through tough sod and hard soils, but then by simply reversing them, lets you do a nice shallow cultivation, which is particularly important for doing in row weeding. This feature alone makes the Mantis tiller a top choice when you have a large area of in row weeding to do, such as I do out at Gramma's.
Handles that fold down
Man, would I have ever loved this feature on the old tiller we had, as it makes it so much more compact for transporting when the handles are folded. Actually when you couple this feature with it's light weight, I actually wouldn't need to use my pickup truck to move this, as it's compact enough to fit in the trunk area of our smaller SUV.
Additionally, with the handles in the folded position it takes up hardly any room in my garden storage shed, freeing up some garage space for me.
Tines that have a lifetime guarantee
To me this feature alone spoke to the quality of the Mantis line, as this is pretty much iron clad:- if you ever break a tine for as long as you own the machine, they will replace it, no questions asked. To me, no company could afford to make that boast if they knew they were ever going to have to "pay out" too often.
Warranty
The Mantis XP 16'' Tiller/Cultivator comes with a great warranty, 5 year consumer and 2 year commercial. What does this mean? In simple terms an individual such as you or I get's a full 5 year complete warranty, yet this machine is robust enough that they have no problem warrantying if for a commercial user for 2 years. This was the best warranty I found for all the tiller brands I looked at in this class.
One year money back guarantee
This one is not seen too often! Mantis have a blanket guarantee of any of their products, that being if you are dissatisfied with any product, for any reason , and have bought the product directly from Mantis, then you can send it back, no questions asked. Talk about a risk free purchase!
The "Nice to Have's"
No fuel & Oil Mixing
Though it's a 4 stroke, the Honda engine require's no mixing. This is actually a neat feature, as I always seems to get the mix messed up, and I ALWAYs manage to spill stuff, so I usually end up with stinking hands.
Attachments & Accessories
The XP has tons of accessories available. Things like a planter/furrower, a plow, a lawn dethatcher, an aerator, wheel set, border edger, hedge trimmer, even a crevice cleaner.
Virtually Indestructible Drive Train
Though this seems like a "no brainer" not all tiller brands can make this boast & it certainly is a "peace of mind" feature.
The Mantis 4 Payment Plan
Though the Mantis XP is pretty affordably priced, this feature may be of appeal to some, being that there is no cost associated with this option.
So where's the best place to buy the Mantis XP 16″ Tiller/Cultivator?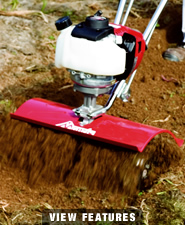 Mantis is a well known brand and have been around for years, the quality of their products have ensured that success. Though they can be found at many retailers, there is something comforting about buying directly from the manufacturer, especially when they are always competitively priced, offer a free shipping service within the US. On their website there will often be a further enticement such as a "spring special" or a maybe a free kickstand. Perhaps the bigger reason though is the Risk Free One Year Money Back Guarantee – only offered by Mantis directly.
Click Here to buy the Mantis XP 16″ Tiller/Cultivator