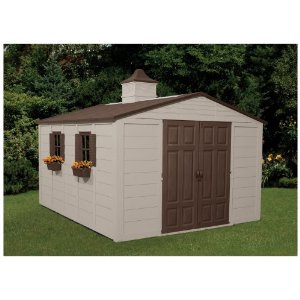 The Icon of the garden in my opinion is the trusty garden shed. It is one of the most prized items for many gardeners, as it not only keeps garden tools and equipment safe and secure but also provides a keen gardener somewhere to escape to and potter around in as they organise tools and their various bits of kit.
I have various sheds in my own garden and it is with great pleasure that I have the chance to talk about some of my favourite sheds and best practices for them here at BigGranite.
As someone who has worked in construction for many years I am confident in sharing a few tips and tricks for putting together flat pack garden sheds, whether they be wooden storages sheds, plastic storage sheds or metal storage sheds. I have even built my own using timber from a yard and some cladding.
Today I will be talking about one of my favourite brand of storage shed makers; Rubbermaid.
The Rubbermaid storage sheds that are available are some of the highest quality plastic storage sheds for sale and they also rank as some of the best price storage sheds online too!
They are very easy to put together and can really keep some of your clutter in the yard at bay.
Number 1 reason to choose plastic storage sheds
There ar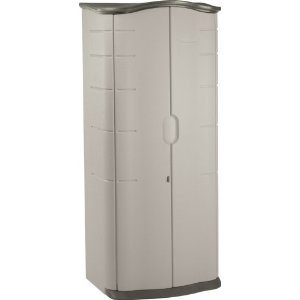 e a number of reasons to choose a plastic storage shed over any other and the number one reason would be how easy to assemble they are. You can literally have your storage shed up and ready in less than 10 minutes. They slot together like pieces of a puzzle or meccano set and come with easy to understand instructions.
Which Rubbermaid Outdoor Storage Shed is right for you?
The awesome thing about the Rubbermaid plastic storage shed is the options they give you when choosing the types of shed you want for your backyard. Some of us are lucky enough to enjoy a large outdoor space where a bigger shed is possible and others will only have a small space to fit a small shed. This is why I think Rubbermaid sheds are so versatile.
The Rubbermaid Horizontal Storage Shed
This plastic shed is ideal for storing garbage cans safely and discreetly away from any unwanted nocturnal visitors. There are always some animals that seem to be able to take advantage of a loose garbage lid gaining access to anything remotely edible. These horizontal storage sheds take care of this problem perfectly and of course it's always nice to tidy away garbage cans, who wants them on show? I know I don't. They open up wide and even have slide lid capability, pretty cool.
Rubbermaid Vertical Storage Shed
The vertical plastic storage shed is perfect for keeping your gardening tools like: your favourite garden spade, hoes, rakes and brooms etc. With its vertical storage you will be keeping all your longer items in here. Same as the horizontal storage shed it has great functionality and keeps what could be a fairly untidy corner of the garden in order. This Rubbermaid shed is great for utilising a small decking space or even a small balcony area.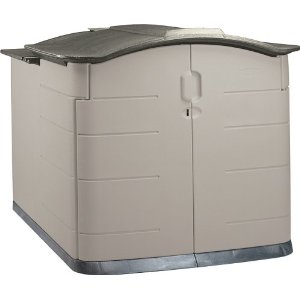 Are Rubbermaid Plastic Storage Sheds right for you?
Personally I think getting a number of sheds for your garden is a great idea, I have quite a few. I have them dedicated to specific items mostly for garden gear but others just as general storage that cannot fit inside my home. If you would like check out the best price plastic storage sheds online click this link!*
*Please note the link above directs to amazon as I have found they offer great deals on Rubbermaid storage sheds.