I have sung the praises of the iconic garden shed and in particular plastic storage sheds as I think they are fantastically easy to assemble and perfect to keep your unsightly pool chemicals and various gloves, forks and spades out of sight and as I was thinking more and more about how I approach my gardening, I realised that in a way for many years I have treated gardening as a form of exercise for both my body and mind. I thought I would share my view on how gardening can really help to ease the pressure in our minds and bodies.
Exercising, Focus and Concentration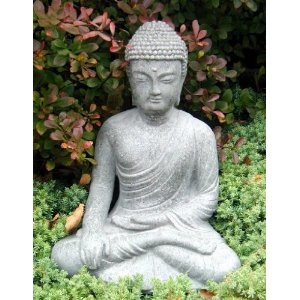 The thing I love about gardening is that I often become completely lost in the moment, whether it be turning a flower bed, cutting back some overhanging branches or edging a lawn, I can often look at my watch and realise that hours have passed. This to me is a good thing because these tasks become not only therapeutic from a physical point of view, because I am getting to use my body in a fairly non-stressful, load bearing way but also because it frees my mind of constant mental chatter. Of course, I may wander off in my mind and think about all sorts of things, but often I will become aware that I am aware of only being aware and present with my leaf blowing, or pruning or planting. Being fully present with what I am doing and nothing more. This is really a fantastic feeling.
Gardening and Enlightenment
Now I wouldn't want to put anyone off reading this whereby talk of spiritual enlightenment is bit too much information, but it did strike me the other day that gardening is a bit like meditation, if you concentrate that is! Kind of like what Zen priests do with a Japanese Rock Garden .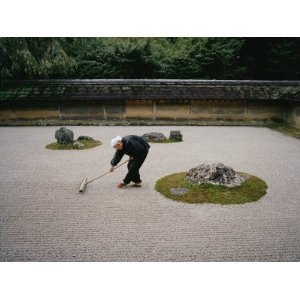 They rake the gravel in their gardens to improve concentration and the thing with the mind is that it can only hold one thought at a time. If we practice concentrating on mowing the lawn to have perfect stripes or shape our bushes and hedgerows to be perfectly in-line then we too are meditating in a way and I have to say I kind of like it.
Taking some time out of my day or weekend, or whenever I have the chance to make a bit of space to get back in tune with nature and my surroundings feels good. Often the best form of relaxation for the mind and body is certainly not sitting in front of the TV and vegging out watching somebody else live their lives but actively participating in our own lives even if it is just gardening.
Well you probably didn't expect that on BigGranite, I'm not sure I did either but there you have it, thanks for reading!