If you have been on vacation in the southwest of the USA in states like New Mexico or Arizona then no doubt you will have seen those roadside stalls selling all sorts of intricate outdoor features for the garden.
You were probably delighted at what you saw down there, amazed by the intricacies of the items on show and you may have even picked out a particular spot in the backyard to put it.
However, if you were anything like me, you will have quickly become put off at the asking price of these sculptures.
Even if you could justify the price, how would you get them back home without having to pay exorbitant shipping fees and risking damage to the product during transit?
Returning home, my appetite was further increased for a copper wind sculpture when my daughter purchased me a bronze, weathered, rustic looking sunflower which not only added charm to the garden but also doubled as a rotating sprinkler which was a good way to cool off on a hot day.
Getting the best of both worlds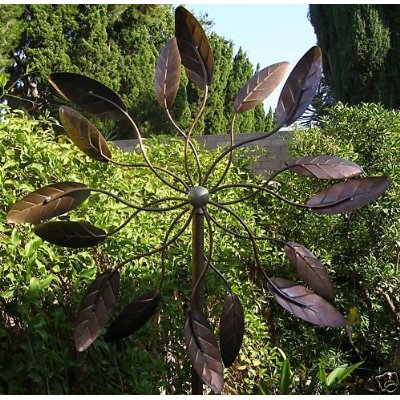 I eventually decided to look around online and see if there were any dedicated wind sculptures for sale at a reasonable price, and I was pleasantly surprised at what I found.
The Kinetic Copper Wind Sculpture is a well priced, spinning ficus leaves garden ornament and best of all you can get free shipping direct to your home saying you money and the obvious hassle of moving one of these things around. You should definitely consider this wind sculpture, particularly if you have come back from many trips to the southwest empty handed.
Kinetic Copper Wind Sculpture review
Obviously it is important for a sculpture to look aesthetically pleasing in your garden, but it also has to be able to withstand whatever the elements can throw at it. This includes snow, rain, heat and intense winds that can develop from time to time.
Many individuals have confirmed this, highlighting that you could easily leave it out all winter in the snow and even during near hurricane-force winds.
You will also be pleased to know that this structure is virtually maintenance free. The copper and brass ficus leaves will age naturally over time to give that rustic appearance but if you want to keep them looking their glossy best then a little bit of work will be required in the form of applying a bit of clear coat from time to time.
Otherwise, you won't have to worry about any upkeep whatsoever.
Marvel at the spinning motion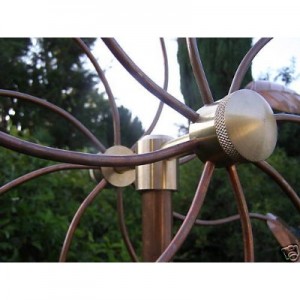 You'll be amazed at how this wind sculpture has three different ball bearings (metal, coated in brass) which allow for independent movement of each of the two ficus leaf wheels and the stand that they are attached to.
Often too the individual wheels will move in opposing directions to each other and at different speeds which makes the pleasant and highly varied motion even more appealing to the eye. I find these simply mesmerizing, and will often find myself almost in a trance, simply watching their graceful action.
How they can spin in just the slightest of breeze is an indication of the quality of the construction of these kinetic spinners.
Made to high standards
The Kinetic Copper Wind Sculpture is a robust and long lasting garden adornment and it has been made to the highest standards of detail and craftsmanship.
In addition to giving you years of enjoyment in the backyard, you can take comfort in the fact that it will be able to cope with all of the rigors of shipping. The same might not be able to said for those roadside sculptures you saw in New Mexico.
I'd rather just deal with a reputable company that had a proven track record of delivering these sort of products without breaking them.
What are other people saying about this wind sculpture?
The overwhelming majority of people absolutely love it, giving glowing 5-star reviews. Specifically, they loved the build quality and that the various motions and spinning patterns that left them simply mesmerized while staring out into the garden.
Garden enthusiasts also loved the fact that they could pick up a wind sculpture for perhaps a third or even a quarter of the price of those aforementioned roadside locations.
One particular buyer did actually see similar products in Santa Fe, New Mexico for around $1800 (without the added cost of shipping of course). Although they were perhaps a foot wider than the Kinetic Copper version they were still, at the very least, 6 times the price.
A word about copper tarnishing
Perhaps the only even remotely negative thing about this product is that the copper will start to 'age' quite quickly. This inevitably caught out a lot of people who were unaccustomed to the speed at which a shiny copper coating would deteriorate, for want of a better word. Commonly known as forming a patina this is actually quite a sought after feature, and indeed many people actually artificially accelerate this oxidizing process.
If you really want to restore it to looking as shiny as the day you received it, then there are several solutions at hand. You can try a combination of Twinkle copper cleaner and Brasso which should do the trick.
To keep the shine right out of the box you can use something like Permalac which is a metal protectant against harsh weather conditions and even against wind-borne salt spray if you live near the ocean.
A naturally aged look or a shiny out of the box look – it's really your choice.
Ready to buy?
You can find the Kinetic Copper Wind Sculpture for a very reasonable price right here on Amazon and receive free shipping in the process. There is also a 30-day money back guarantee if you are at all not satisfied with your purchase – though I cannot see how you wouldn't be in this case.
Conclusion
It is clear that a wind sculpture is going to be a highly valued addition to your garden and the envy of your visiting friends and family. Not only that but these sort of things can also help to alleviate stress and anxiety in your life which we all face from time to time.
However, you definitely need to think about where you are going to buy one and the associated hassles or problems that come with it.
Buying a good quality wind sculpture from a trusted company with many existing consumer reviews to alleviate any concerns you might have is the way to go, and you would be mad to go anywhere else in search of a decent garden structure.
The Kinetic Copper Wind Sculpture is an aesthetically pleasing garden ornament that is easy to setup and requires very little maintenance, it really should last you for decades barring some monumentally severe weather system.