I have a tired, 15 year old resin furniture set sitting out in the yard which is just begging me to throw it out. It blows around on a windy day and I need to get the pressure washer out each spring in order to give it a good clean, but it is just not worth it anymore!
After some considered research I decided upon the Strathwood St. Thomas Cast Aluminum Round Dining Table . While I only wanted a smallish table to accommodate around 4-6 diners, I also wanted something that would be able to sit in the yard on a windy day and stay there. The extra stability and more appealing, rustic look were a great improvement on my old resin furniture.
The Strathwood St. Thomas Round Dining Table important features:
This particular round dining table will be fine in any sort of weather, and there is a 2-inch umbrella hole in the middle for hot and sunny days where you don't want to get burned.
The St. Thomas is finished in dark brown and has a scrolling vine design with flecks of silver and last but not least, attractive bronze highlights. This will really look great on our big backyard deck, but would look equally stylish in a cozy, ground level cobblestone patio environment.
What about size and dimensions? The table is 28.5 inches high and is 47.5 inches across. It is appreciably sturdy but not back-breaking by any means at 48.5 pounds. My wife assures me though that I get to do any moving!
As the name suggests, this table is made from aluminum. This means that you get to take advantage of the great properties that an aluminum piece brings with it, including rust-resistance, portability and durability. All of which, you'll agree are very important for a piece of outdoor furniture.
Strathwood St. Thomas Cast Aluminum Round Dining Table Review
One of the things that always put me off buying such an ornate table in the past was the fact that they did not look level enough to be able to eat or drink off. The last thing I wanted was to be doing was drinking a glass of wine and having to hold it my hand for fear of it tipping over the minute I set it down on the table.
With the Strathwood St. Thomas, you get the best of both worlds; a pleasing and detailed design but also the confidence to set a glass down on the table and not have to worry about liquid going everywhere. This baby is really stable!
One particularly pleasing thing about this table is that there are screws on the legs that you can adjust in the event that you are setting up on an uneven surface and the table wobbles somewhat. Just think, set up the table properly once, and no annoying wobbles, and gone are the days of stuffing something under a leg in a vain attempt to stabilize it.
Assembly is also very easy and intuitive out of the box, though it would be hard to see how putting a table together would be too difficult!
Will it really seat 8 people?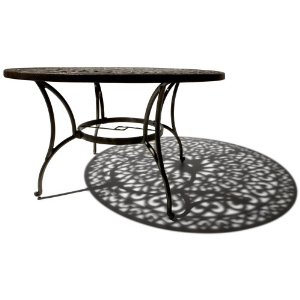 Some people are claiming that they can get 8 people around this table, but if you actually measure out the 47.5 inch diameter of the table at home, you will see that 4 to 6 people is more a realistic figure. Keep this in mind if you are planning to entertain more or look for a larger, rectangular table. There is something appealing about a round table however, as they certainly make a more intimate conversational experience than a long rectangle style.
What are others saying about the Strathwood St. Thomas Round Dining Table?
Reviews have been very favorable indeed for this outdoor table. People love everything about it; the colors, the design, the easy assembly and that it actually serves as a functioning table as opposed to a piece of art.
J. Kadavil said that they were able to get 5 adults around the table, and possibly one more if they had to. They loved the Strathwood St. Thomas for enhancing their outdoor eating experience and, despite being subject to a number of storms over the summer, is showing no signs of rust.
Where's the best place to buy?
Something else which came up frequently was the way that the product was shipped and how it arrived at the destination in one piece. I find that when ordering large, bulky items you are always taking a risk with regard to how it is handled in the shipping process.
Sure, you could find these at a retail store, go to the hassle of transporting it home, or you could shop online, and have it delivered to your door for free. I know what I'd choose!
Based on what other consumers that have gone before you are saying, I would recommend that you trust Amazon for your purchase. They are great to deal with and will send you out a replacement if you are very unlucky to suffer any damage to your table. I've always found their pricing the most competitive & their free shipping is hard to beat.
Click here to see the Strathwood St Thomas Round Dining Table on Amazon*
Conclusion
The Strathwood St. Thomas Cast Aluminum Round Dining Table is as beautiful as it is ergonomic and functional.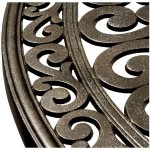 The intricate vine motif will look stunning in your yard but because of the gaps in the pattern, rain water will fall through instead of collecting and wind will also blow straight through on a windy day instead of blowing the table over.
The Strathwood St. Thomas is very reasonably priced and while not the least expensive on the market by any means, it should be a strong contender on your list – particularly if you want to upgrade from a less than appealing resin furniture set.
Perhaps the only thing letting this table down is that the chairs are sold separately! However, that just means you get to make 2 great purchases instead of one. I would start a search for chairs with the Strathwood St. Thomas Deep Seat Motion Chairs with Cushions as they'd fit perfectly with this beautiful table.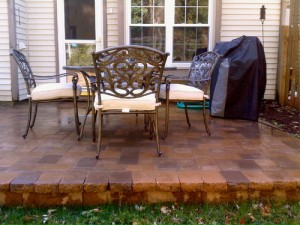 * Please note the link above directs to amazon as I have found they offer great deals on Strathwood St Thomas garden furniture.