Bodum Fyrkat Portable Charcoal Grill Review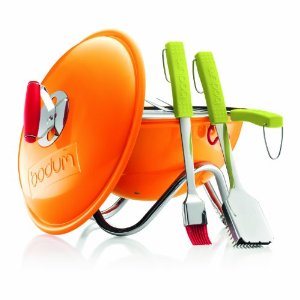 We have had all manner of barbecue grills at our home. I even built a pizza oven that we used to use as a grill.
We have had large grills on stands, small hibachi grills from Lodge Logic, and a few others over the years.
The Bodum Fyrkat portable charcoal grill is the one that has had the most used by far.
For 2 years now we have pretty much not used anything else. Why bother?
If you simply want to jump straight to the details of the discount price I found then please see here:
Bodum Fyrkat Charcoal Grill Price
Or read my review first so that you know you are buying what is suitable for your needs.
Bodum Fyrkat Barbecue
The full name, the Bodum Fyrkat 13.4-Inch Portable Charcoal Grill, is the best value for money grill I have ever come across. OK, if you want to use gas then you can buy little grills that are cheap, but you may as well not bother. Charcoal is a MUST HAVE if you want REAL flavor from outdoor cooking. And the Bodum portable grill delivers it in spades.
Bodum Fyrkat Portable Grill Review
I want to do a proper Bodum Fyrkat portable grill review. Not just a description of what it does. Although I will cover that as well. But basically this is a review from me, a real person, after using it for 2 years. We used it for many months in the Summer, at least twice a week.
What We Cooked
Anything from vegetables on skewers to T-Bone steaks (drool), to fish, Lamb, basically you name and we cooked it. Chicken pieces that were Uber succulent, something not always easy to do when grilling.
Features
Although this is nowhere near as large as other models it really does perform amazingly well.

The main features are as follows:

Bottom vents for good air flow
Rubber clasps to hold the lid down
Handy carry handle
Handle turns to open top vents
Enameled so it won't rust

That is the basics. Lets look at how I use it to maximum effect.
Cooking Tips For The Bodum Grill
I start off by lighting the charcoal and allowing it to get white. Then the coals are ready for grilling.
The absolute best thing about this grill is the fact that the temperature is totally under your control. Let's say that the coals have got hot, but you want to start cooking now. If they are too hot then the food with be charcoal itself in a few minutes. But sometimes your belly cannot wait! I know mine often can't 😉
Not a problem.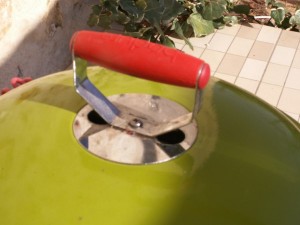 Put the lid on and close the top vents.
The charcoal will cool down in minutes. You can actually see this happening. The bottom of the grill will be glowing orange when it is very hot. Put the lid on and this will revert back to the enamel color that you have chosen.
Once it has cooled down you can put your barbecue on and get grilling.
The lid is a very handy feature and it really does make it the most versatile of things. You can open or close the top vents for maximum versatility. If you leave the lid on and open the vents than it will cook the top of your meat very well, and makes for very succulent meat. It partially steams it.
The Latches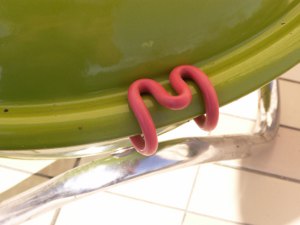 These don't melt, but they are perfect for fixing in place to move the grill as and when needed. After 2 years ours still look perfect and are showing no signs of wearing.
Handle
Same for the handle. Top quality as we would expect from Bodum, ergonomic, soft and comfortable and still as pristine as the day we bought it.
The Enamel
This is of the best quality I have ever seen. It is not a thin coating, it is thick and still perfect. A quick wipe and it is back to all its shiny glory.
What I love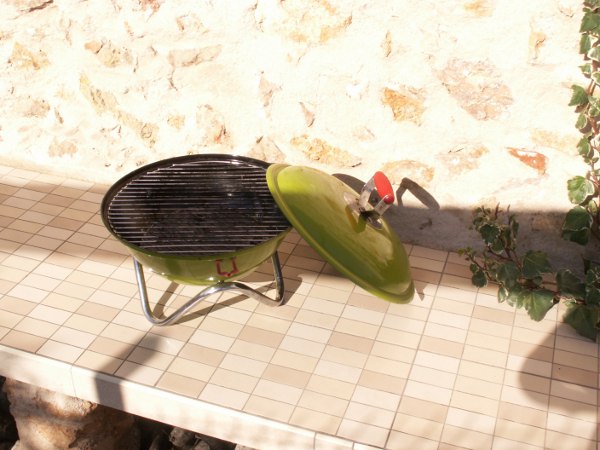 As you can see, this is a very versatile grill indeed. The Bodum Fyrkat portable grill is perfect for anyone that wants to barbecue without having to have a stationary grill. Take it camping, use around the garden, basically anywhere. For us it beats a static large grill.
Portability
The handle means you can move it simply. You don't have to have it taking up room in the garden. Great for balconies or small spaces, but to be honest we use it and we have acres of land doing nothing. But when not in use it is just stored away in the shed out of the way. Who wants a massive grill taking up lots of room when it is not needed?
Large enough for 4 people
All Summer we often used it for 3 or 4 people and it is large enough. It is not suitable for large gatherings but for a maximum of 4 you can get enough steaks on to feed everyone.
Uses minimal charcoal
It really does not use much charcoal at all. There is no need to use a massive grill when half of what you burn is just wasted. The Bodum charcoal grill is just about the perfect size to ensure there is no waste.

Bodum Fyrkat Charcoal Grill Price
The Price? Brilliant! The Bodum Fyrkat charcoal grill price is very competitive. Especially considering all the features and the high quality of the build. From the enamel right down to the latches, all is of the best possible quality.

Deals

I have found a great Bodum Fyrkat grill deal, see it here:

Bodum Fyrkat 13.4-Inch Portable Charcoal Grill Deal*

Best Price Bodum Charcoal Grill

That is the best price I could find online. And it is certainly cheaper than any high street offer I have ever seen.
Colors
We went for the green and I love it. You can also pick from blue, black, red, yellow and white. Talk about options!
Summary
Hopefully this Bodum Fyrkat grill review has shown you just how versatile a grill it is. You cannot beat cooking over charcoal, and the price makes it a real winner. But it is not all about finding the cheapest grill. It is about buying something that will last, and that is suitable for your needs.
If you want it to feed a horde of people then it is not suitable. But for 1-4 you can cook a meal in one go, and that is not bad at all.
With the variable top vents to control temperature, the handle to make it super portable, and the enamel that keeps it looking pristine this is about as good as it gets for portable charcoal grills.
Take a look at the price, read reviews from other customers, and when you see the cool color ranges you are definitely going to be impressed.
2 years on and ours is still going strong, I love it.
*Please note the link above directs to amazon as I have found they offer great deals on Bodum charcoal grills.