The Nelson 1865 Raintrain Traveling Sprinkler – Gramma's Toy
Gramma, our family matriarch, lives on the family farm and takes enormous pride in the large communal garden she maintains.
This vegetable garden is way to large for any one person, but as we're a fairly large family, and we are fortunate to all live fairly close to her, her vege patch has become the communal garden in a way, as sons, daughters, spouses, and grand kids all pitch in and help with the planting, maintenance, weeding, tilling etc throughout the growing season.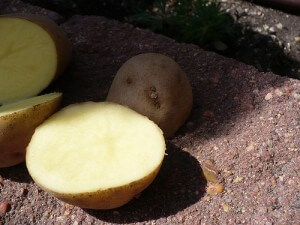 Gramma's a great supervisor & a thrifty shopper, a legacy of being raised in the dirty thirties in all likelihood. She spends the winter months planning next years plantings, and picking up seed packets from various stores whenever she sees a deal. Seed potatoes are never purchased, she always just uses leftovers spuds from last year, and you'll see her every spring, sitting under the Pussy Willows with one of the little ones, a bag of rotting potatoes on one side and an old pail on the other, as she goes through the remnants of these old potatoes and cutting out the eyes.
I always thought you had to plant the whole potato, but no, Gramma just plants each "eye" with about a square inch of potato flesh attached. It seems every one grows, and she'll get 4-5 plants from each spud, where I would have had one!
Once the garden is all in, most days you'll see Gramma puttering around in there, with a lot of evenings different families arriving to lend a hand. One of the chores that does get left to her though is keeping the garden watered whenever we get a dry spell. It's a good thing we live in an area that gets, though not an abundance, usually adequate rainfall to keep a vege garden flourishing, and the lawns healthy & green. However, every summer we'll get a dry week or two, and in order to keep a good active growth, then it's necessary to irrigate the patch.
Remember frugal Gramma?
Well for years she would use an old plastic oscillating sprinkler that she probably picked up in a Dollar Store sometime. Though it did the job, it required an awful lot of baby sitting, as it had a limited spread pattern, so required constant moving. She ran it from an old hose that had more joins and patches than I cared to count, and was always catching on plants & damaging them as she moved it around.
A Birthday Sprinkler
Typical of a lot of older people, Gramma always told us "she doesn't need anything", so don't bother buying her a present, but last year we decided that we'd ignore her for once, and she was getting something to help her out in the garden. A quick look at her garden tools showed that she had just about everything she needed, except for that darn old sprinkler and patched up hose that should sure take a one way trip to the dump!
It was my job to look for a replacement, and once I saw the Nelson 1865 Raintrain Traveling Sprinkler on Amazon I knew we had the perfect present. As she'd spent her entire life on the farm, the simple fact that the sprinkler was in the shape of a tractor, and it moved even, was enough for her to pique her interest, and not one "what are you wasting your money on me for" scolding did we get.
Just like the farmers irrigation system
The concept behind this sprinkling system is very similar to a pivot irrigation system that you've likely seen in farmers fields. These systems use the pressure of the water source to power not only the spray system, but also a gearbox system that ends propelling the whole system over the field.
The Raintrain Traveling Sprinkler does a similar job, but it works by traveling up a hose, that though it can be placed in a circular pattern, is more often laid in a straight line, parallel to the intended area.
Capable of watering up to 13,000 sq ft, the Tractor unit is equipped with a rotary spray arm that's fully adjustable from about 15 to 50 feet. Of course this depends a lot on the water pressure you have and whether you operate it with a 5/8″ or a 1/2″ hose. We purchased a good quality 5/8″ hose that was 100ft, (that cost more than the darn sprinkler) and it can blast water a good 50 ft.
Perfect For Gramma's Garden Patch
As the garden is about 100ft wide, this length works perfectly to water 50 ft swaths at a time.
Of course the Nelson 1865 Raintrain Traveling Sprinkler is designed more for traveling down lawns, but by simply keeping an extra wide, firmly packed path between the rows, and a path about every 50ft, she can water the entire garden in just a few hours, and virtually hands free.
This form of sprinkler has actually been around for decades, a testament to it's quality and effectiveness. It has two speeds, at the high speed it'll travel about 35-40 ft an hour, and water for 1/4 application" . At the low speed, it's travel length is down to to around 2o ft per hour, but the application rate jumps to 1/2″.
I could list all the features and specifications here, but frankly Amazon does a great job of that. You can check them all out on the Amazon website here, and while you're there make sure you read the reviews of the Nelson 1865 Raintrain Traveling Sprinkler – when I was writing this there was over 260 reviews listed, with well over 200 being 4/5 & 5/5 stars.
Comments such as these abound.
For some reason, it's mesmerizing to watch. After I get it set up, I always watch for a few moments to make sure the water throw is adjusted properly, and then I find myself watching it longer than necessary.
It's quiet. The only sound it makes is the water hitting the grass.
Inspecting the yard afterwards shows that the ground is nicely saturated, and not needing to go out and move hoses is a welcomed change.
It does a great job and gives excellent coverage, with very little effort from me.
What I like best about it is that the water comes out in big droplets that all reach the ground, not a fine spray that is blown away by the wind.
No more having to go outside and move the sprinkler every 15-20 minutes!
There are a few quirks with it, but even Gramma figured them out pretty quickly. Little things like making sure any curve in the hose is not too acute or the tractor will stall, or not laying the hose in an overly saturated muddy area, as just like the farmer's tractor, these things will get stuck.
"Choo choo" rain
Probably the most comical thing is to see Gramma (or the grand kids) out there just watching this little machine slowly & silently traveling up the hose. Indeed there's something mesmerizing about this timeless contraption. See what I mean by watching this neat little clip of the Nelson 1865 Raintrain Traveling Sprinkler that has been filmed with some time lapse photography. Enjoy!