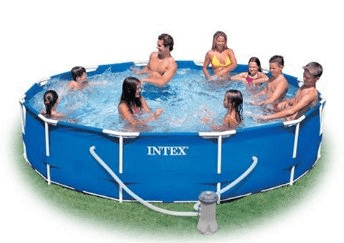 While BigGranite is about gardening, I know that installing a pool for the summer warranted some landscaping effort on my part hence the reason for this pool review.

Because we live in a cooler climate, having an in-ground outdoor pool just doesn't make sense cost wise as we have limited months to use it and it would probably get damaged with our freezing winters. Because of this we decided last year that we would splurge on getting an above ground pool for our kids, which would not only entertain them but also keep them cool during our few hot summer months.
After checking out different online reviews, we decided to get one of the Intex Metal Frame Above Ground Pool sets as they had many positive reviews as well as being made by a reputable company.
Intex Above Ground Swimming Pool Review
Once we ordered our pool, we quickly got to work levelling the area were planned on placing the pool. From reading reviews from others who had purchased the same pool, we knew it was important to make sure that it was very level and cleared from any bumps or rocks as it makes a difference in the stability of the pool. Plus once you finally got it filled you wouldn't be able to change anything without emptying it.
Assembly
When our pool arrived, we watched the included instruction DVD to make sure that we knew what we were doing. After that my husband and I got busy setting up the pool. We found the directions very detailed and easy to follow and our pool was quickly up in just under an hour. No tools were needed for setting up the pool so the set up went quickly. After the pool was set up, we started to fill it which took a little over 4 hours to fill.
After having set up our pool, we do suggest that you ensure that your ground is level. Also when you start to fill up your pool, you need to make sure that you are smoothing out any creases in the bottom of the liner as once it reaches a certain point you won't be able to fix it due to the weight of the water.
Once your pool is set up, make sure to monitor the pool to ensure that the chemicals in the pool are balanced – you can purchase test strips specifically for pools and spas either online or from a local spa shop.
They recommend that you change the pool filter every week, however I have saved a bit of money by rinsing out my filter every time I add a chlorine tablet – it takes a few minutes but for the money I save, it is worth it.
What Sizes Do They Come In
Currently on Amazon, you can order four different sizes. Depending on how big and deep you want your pool, you can choose from 12×30, 15×42, 15×48 or the largest size 24×52. As we were looking for an average size of pool we went with the 15×42 and found it just the right size – enough room for the kids to swim around as well as adding some air mattresses to float around in.
What Is Included
All the sets include a filter pump along with a DVD with instructions on how to set it up. Depending on which size of pool you purchase, there are different accessories included such as ground and pool cover, maintenance kits and a volleyball set.
If the pool you want to order doesn't have the accessory you are looking for, you can also order them individually.

How Is It Constructed
The sidewalls are made from durable 3-ply PVC which not only provides the shape for the pool as well as helping in puncture resistance but it is very resistant to sunlight and salt water. Supporting the sidewalls are high-grade galvanized steel posts that are powder-coated to help with rust resistance. These metal joints and beams quickly snap or pin together which is why it is so easy to get the pool set up.
Intex Above Ground Swimming Pool Cost
Depending on what size of pool you decide to get, the prices range anywhere from just under $200 to about $1000 on Amazon which allows you to pick the pool that fits your budget. The Intex above ground pools are an inexpensive alternative to paying for a pricey pool pass plus you get years of recreational entertainment from them.
>>Check out the Amazon prices for the Intex Above Ground Swimming Pools here<<
The Intex above ground swimming pools are structurally well designed – the perfect family sized pool that would be a great addition to anyone's backyard. It will keep the kids happy all summer long. Once summer is over, it is a matter of draining your pool and storing it until the next summer!
Posts related to Choosing The Right Intex Above Ground Swimming Pool