Well, my reliable electrical grass trimmer (aka weed wacker), finally broke down after 6 years of using and abusing it. In fact, I managed to get the final season out it this year in 2011. It was kinda of a funny story on how this unfolded this summer, in terms of needing to look at finding the best weed trimmer for next season.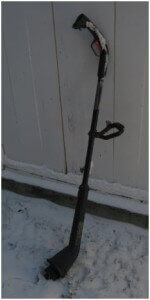 While I was actually going around my yard in September, after cutting the grass on a hot sunny day, I noticed a strange smell coming from my weed trimmer. At first, I thought maybe I was pushing the trimmer way too hard on hot sunny day. Then, a few minutes later, as I was going around the rest of my yard, I noticed some smoke actually coming from the weed trimmer motor area (I really should have taken a picture of it by the way).
At this point, some of you maybe thinking, I stopped using it – right? Nope, not me being a guy and all. I actually thought – cool to see smoke and all, and kept finishing my yard work. I figure if the thing got a little worse, I would see some flames perhaps or the motor would just die out. In the end, I was disappointed to not see any flames and the motor gave out.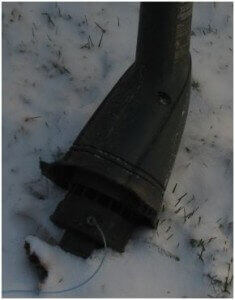 In fact, this weed trimmer of mine, was so abused, that the lower housing area, that actually helps deflect grass and other debris from hitting you in the legs, cracked and fell off in July. Again, doing the guy thing and not wanting to spend a few bucks for a new one (ya cheap bugger I know), I figured, just wear some jeans and protective eye glasses and I was good to go.
However, its now time to say goodbye to my little friend – the weed trimmer, who's endured so much abuse over the years and find a replacement.
So, now that our season has come and gone, its time to do some research online and find out, which are the best weed trimmers in the market place, based upon several important factors, which included the following:
1. The size of your actual yard area
2. What kind do you actually want to buy – battery, gas or electrical?
3. Quality, value and price
What is the Best String Trimmer?
From looking around, reading and doing a ton of research on which brand to go with, I ended up choosing the following cordless weed eater. During my research, I looked at the WORX GT model, Black and Decker models, Craftsman, Stihl, MTD, John Deere, and Toro. All of them have their pros and cons and many were suitable to consider actually buying. However, I really liked one in particular.
Black & Decker NST2018 Grass Hog Cordless Electric String Trimmer
18-volt, 12-inch cordless string trimmer and edger
Includes 2 x 18V NiCad batteries, with a telescoping shaft, and centrifugal forces automatically advances your line
For increased cutting and trimming power, this model includes the patented gear drive transmission, which amplifies the motor torque for improved performance
This unit includes 2 batteries, a trimmer, and charger
Only weighs in at 6.8 pounds
2 year warranty
>> Click Here For the Current Price and Customer Reviews *<<
Aside from Black and Decker being a very well known brand name globally, the tipping point for me, was reading the numerous customer reviews. With hundreds of reviews written its great to see such a positive rating being given to this weed wacker (you can see them all via the link above).
The added benefit of this Black and Decker model, it can be used as an edger. Now, if you need to do some major edging, then you will need to consider going to a more industrial type or gas powered version.
One concern that came up on some customer reviews, the batteries only last between 20 to 30 minutes each. You do get 2, so getting the average yard done, should not be an issue. If you have a large acreage type lot, then the option, would be to do it over a couple of days, in between charging or perhaps consider buying a 3rd battery.
In addition, because many weed trimmers, especially the gas powered ones, can weigh a bit more and many elderly people simply can't handle the extra weight. At just 6.8 pounds, just about anyone from all ages can handle this trimmer easily. This is why cordless trimmers are so popular.
*Please note the link above directs to amazon as I have found they offer great deals on weed wackers.