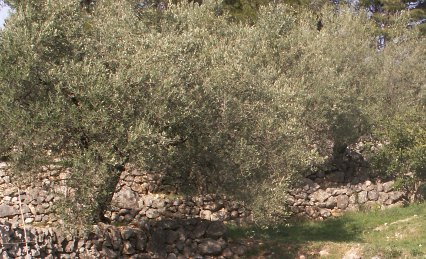 This is so simple it is pretty amazing. Normally you have to put a lot of work in to taking cuttings from trees and expecting them to grow. It normally involves grafting on to specific root stock. Olive trees are different. After much experimenting I have found that you can grow Olive trees from cuttings from a simple cutting up to a few centimetres in diameter.
And that is all that needs to be done really.
You simply take a clean cut, preferably at an angle and put it in some potting soil. Keep it covered with a piece of clear plastic and keep the soil just slightly moist.
Olive trees are pretty unique as they are covered in growth nodes that will spring into life. So when you cut a tree right down or prune a branch new growth appears very quickly. And this is true for cuttings as well. Simply take your cutting and give it basic protection and it will grow.
It's that simple.
They are one of the easiest things to grow, but if you want good fruit you will have to ensure you have very long Summers, and never water it once it is established. They like it very dry and very hot. About St. Augustine tree pruning experts here.