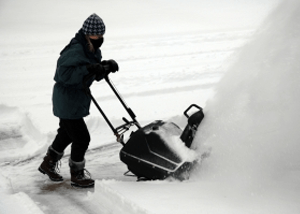 If you are looking for a snow blower, it is always best to know what you have for options so you can decide on what is important to you. Here are some of the features you can find on the latest models of snow blowers.
Electric Start Ignition – this makes it easier to start your snow blower quickly in cold weather conditions.
Folding Handles – being able to fold up your handles makes storing your snowblower year round easier.
Single-Hand Control – this option allows you to still be able to control the snow blower with one hand while making any necessary adjustments with your other hand.
Deadman Control – this is an excellent safety feature that allows you to release the control and have the snow blower stop immediately.
Chute Control – having a chute that you can easily control and that changes directions as well as height is important if you constantly need to shoot your snow in different directions.
These are a few options that you can find on the lastest snowblower models such as the Murray 1695885 22-Inch 205cc 4-cycle Briggs & Stratton 800 Snow Blower. Knowing what you want before you shop will help you narrow down your selection so you find the right snowblower for you.