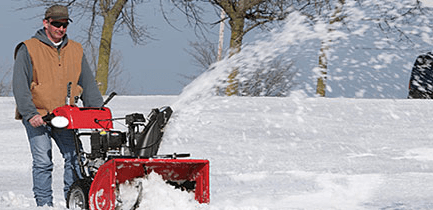 If you are looking to make a purchase of a snowblower, it is always good to know beforehand exactly what you need before you even start shopping. While it would be nice to be able to just pick any snowblower and expect it to do the job, not all snowblowers are created equal. Before you set your heart on a specific model, check out these tips on knowing exactly what type of snowblower is right for you.
How Much Snow Do You Typically Get?
Before you look for a snowblower, you really need to determine exactly how much snow you typically get in your area as well as what size of area you will be clearing. Measure the areas that you will need to snow blow to help you determine what size of blower to buy. If you live in an urban area and only have a regular sized driveway and sidewalk, then you could probably get away with choosing a blower with a smaller sized motor however if you plan on cleaning out a large lot every time you get snow, then you will need to invest in a larger sized snowblower.
You will want to select a snow blower that has enough power to handle the amount of snow that the area you live in usually gets.
How Far Do You Need To Throw The Snow?
Just as knowing what size of area you need to remove snow from, knowing how far you need to throw the snow is also important. Don't forget to measure these distances when determining what size of snow blower to buy.
What Type Of Snow Blower Do You Need?
When it comes to snowblowers, there are three main models that you can choose from:
A two-stage, larger framed unit is great for clearing deep, wide paths of snow.
A single-stage smaller unit is perfect for smaller areas such as urban sidewalks and driveways.
An attached snowblower or snow plow to your garden tractor is great for longer driveways or for larger lots.
Once you know how much area you will be using your snow blower on, you can then decide on what type of snow blower you need.
How Much Money Do You Have To Spend?
Because not all snowblowers are created equal, you will also discover that the prices vary when it come choosing snowblowers. Just because you pick the most priciest model does not mean that it is the right blower for you.
What Features Are Important To You?
Maybe the most important thing to you is that you just want to move snow off of your driveway. If that is the case, then you probably are not looking for the blower that has all the bells & whistles. If however, you would like a model with an electric start or may even heated handgrips – deciding before hand that those features are important in the snowblower that you want to buy will help you narrow down your selection.
Posts related to Guide To Buying A Snow Blower