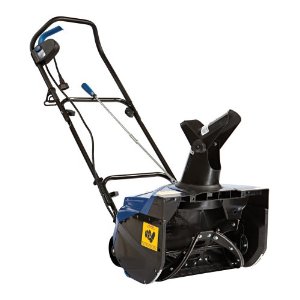 If you live in an area where it snows enough for you to have to use a snow shovel, I have the solution which will save your back. Buy the Snow Joe SJ620 electric snow blower. It's light and starts right up, even in the coldest weather. It's electric, so you don't need to worry about little things like the oil getting too thick to start it when it really gets cold. But there's so much more to appreciate with this little snow blower.
Prices change daily so click here to view today's discount on Amazon
Clears A Path 18 Inches wide and 10 inches deep
The Snow Joe SJ 620 is 18 inches in width. Maybe not the biggest snow blower out there, but it's plenty wide enough to get the job done. While it's clearing your walks and driveway with it's 18 inch cut, it's taking a big 10 inch deep bite at the same time. The manufacturer says that it will move 650 pounds of snow every minute.
13.5 amp electric motor
Moving that much snow means that this little snow blower has a powerful electrical motor. 13.5 amps in fact. If you never thought of trying an electric snow blower, it's time to adjust your thinking. Always ready to go, and easy to start. That's what makes an electric snow blower so great.
Adjustable Discharge Chute
The Snow Joe has an adjustable discharge chute. It may be rotated from side-to-side through a range of 180 degrees. Not only can you aim the chute at whatever angle to the side you desire, but it is also adjustable by way of a chute deflector up and down. Use of these two sets of adjustments means that you can aim the stream of snow that is being removed in pretty much any direction and angle you choose.
Snow can be thrown up to 20 feet by this powerful little snow blower. Although when the snow is heavy and wet, it won't go as far. A few owners have found that snow like that will go about 10 feet.
Save Your Back (and maybe your life) with A Snow Blower
In a 17 year study published in the American Journal of Emergency Medicine earlier this year, it was reported that on average, there are over 11,000 back injuries to adults and children each year. It said that shoveling snow can cause bad backs, head injuries, broken bones and heart problems.
Anyone who has ever shovelled snow knows just how tough that form of exercise can be. Every winter there are plenty of reports of people collapsing while shoveling their walks or driveways with heart attacks.
In Kingston, Canada this year the records of 500 patients who had gone to Kingston General Hospital over the last two winters were reviewed. it was found that 35 of them or 7% began experiencing symptoms of heart problems while they were shoveling snow. Dr. Adrian Baranchuk, who is a professor in the Queen's School of Medicine, and also a cardiologist with Kingston General Hospital said, "That is a huge number." He went on to say that in medicine that seven percent of anything represents a "significant Proportion." The report went on to state that it was quite possible that in fact the numbers may have been low. They said that there could have been patients who didn't mention that they had been shoveling snow at the onset of their symptoms. This information was published in the journal, Clinical Research in Cardiology.
My point is not to frighten anyone out of shoveling snow, but to point out just how physically difficult it can be, especially on those of us who are out of shape, or that smoke, or anyone with risk factors for heart disease. We just want to clear some snow to make our properties a little safer. It shouldn't mean that we have to risk injury or even death just to move some snow.
That's where a machine like the Snow Joe comes in. It makes our lives a lot easier physically, and even safer.
A machine which does a fine job of clearing walks and driveways of heavy loads of snow and that doesn't cost an arm and a leg like the Snow Joe SJ620 can be a real blessing for people who live in areas where they can expect snow every winter.
This snow blower is durable too. It has a 4 blade rotor which is made from heavy gauge steel.
There is also a scraper blade on the bottom to help clear snow right down to the pavement.
Being electric, there are no spark plugs or filters to clean. No gas or oil to buy, and no tune-ups necessary. Not to mention the noise and smells associated with gasoline engines. Having an electric motor means that it's a lot lighter than an equivalent gasoline powered snow blower too.
Similarly sized gasoline powered snow blowers cost considerably more than this machine too.
When you weigh all the benefits of using a snow blower as opposed to shoveling your walks and your driveway yourself, the answer is clear. Unless you're in good physical shape, you probably are much better off using a snow blower. so the question then becomes, which snow blower to buy.
While almost any snow blower will make your life easier, why not purchase one which gives you truly good value for your money. Buy the 18 inch Snow Joe SJ620, and get the simplicity, lighter weight, and lower maintenance costs of an electric snow blower.