The Blue Rhino Firebowl is great value for money in my opinion. Once you have assembled it and given it a test run you will be happy you took the plunge. It is sturdy, easy to use, acts as a table for drinks and snacks and even good as a nice place to prop your feet, but not too close of course 😉 What I thought I would do quickly is give a write up to help with setting up your own outdoor propane fire pit.
Number of People required
2 (it will be a lot easier for you with two people)
Time to Assemble
Plan on 2 hours
Location of your fire pit
This is a big unit so I highly recommend assembling your firepit close to the final location of where you want it to go. You won't want to be dragging it too far it weighs about 170 pounds.
Prep Area
Use the cardboard box that comes with your firebowl as a ground sheet or get some other material to lay on your decking area or grass etc, it will save scratching both the ground and the fire pit itself.

Reading the Manual
The manual is actually mostly pictures, so you won't be doing much reading, but since the human brain basically thinks in pictures, you'll see what to do and hopefully your brain will connect the dots, cross the T's and dot the I's etc. Just make sure you note the number of holes on the top or bottom of a piece so as you know what way they get fixed. Keep an eye on using the correct screws aswell.

Screw Package
Screws include a Legend that tell you what is what, although you might find the legend mixes a few up etc, verify with the pictures to clarify. Use: Allen Hex Keys for attaching sides to top and Phillips for the rest.

Got a Screw Loose?
I have read on Amazon that a lot of people had problems with the screwing part. The solution is simple enough. When you screw your screws in to assemble each part, DO NOT over tighten them so that they bite each item/piece together, rather screw the pieces together but leave a bit of play (movement). This is because as with any factory made items, although the pieces are made in a jig, where everything should come out uniform and aligned, sometimes each hole may be out by a millimetre or two and by the time you get to the fourth piece etc that will be an accumulated 4mm, which can make it hard to align everything. By leaving a bit of play (read: movement) with each screw/piece, everything should be able to be screwed together lightly and then once all connected, you can go back and tighten each piece. (I hope that makes sense). You may even have to widen a hole with a punch or angle a screw to get it in. You will know when you know and having read this you will feel a bit more confident in getting over this potential issue.
Tank Cover
Easiest to put on starting from the bottom upwards, not the other way round.
Propane Tank Hose
Attach the hose to the gas tank and rotate the tank to tighten up. This will allow the hose to wrap closer to the tank resulting in it fitting tight enough to close the housing door.
Protective Fire Pit Cover
This cover is great to keep rain out of the firebowl when there are downpours. It is only cheap vinyl and has been known to tear fairly easily. One of the customers over at Amazon suggested turning the cover inside out, putting duct tape on the corners to re-inforce the seams, turn cover the right way out and then use it. A very good idea indeed.
Starting your gas fire pit
Turn the knob on the control panel to the start position and hold it in. This opens the flow of gas to the igniter. Press the electric starter button to engage the spark to catch the flow of gas. If you do not keep holding the start button there will be no gas for the starter button to spark. After the fire pit lights up, keep holding the knob in to let the flow of gas fully connect with the flame and after a few seconds you should be able to let go and your fire should now be burning on its own.
Beverages
If you have a cup of coffee or cup of tea then by all means keep it on the table top, it will keep them nice and warm, conversely, keeping a beer, spirits or wine on there will heat them, be warned!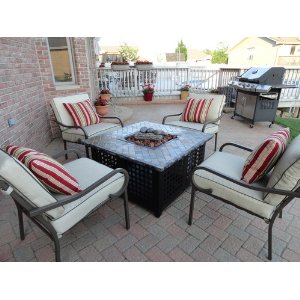 Enjoy Your Gas Fire Pit!