I recently wrote an article on the benefits of owning a wood burning fireplace, I was totally convinced that adding the wood and firelight blocks or using paraffin etc was the way forward, it is still a very enjoyable experience and certainly not a hardship but it has come as a great surprise that I may well be converted to a user of a propane fire pit.
Buying a Propane Fire Pit
If your anything like me and you like your gadgets, I'll often find myself owning more than one item that pretty much does the same thing. Xbox and Playstation. Check. Iphone and Blackberry. Check. Various other like-for-like products. Check. Then I found myself doing the same thing for outdoor fire pits. The best thing about a propane fire pit is the speed at which you can get your fire going. "Anyone for Fire"? You got it! Instantaneously. I love it.
Choosing your Propane Fire Pit
You can choose a real heavy duty looking propane outdoor fire pit that will not only keep you warm on cold winter afternoons but also double up as a garden ornament or centre piece feature for your patio or decking area, as some of them have some nice detailing on the sides of them. You will want to consider the size of your gas fire pit. Will you require that it be moveable around your garden or want to install it in a fixed position? Some of them are quite heavy and would be very heavy to move around. With a table top or without? Large or Small? Really cheap or Expensive?
My preference and often my motto in life is to go BIG or go home, so I went for the Blue Rhino GAD860SP LP Gas Outdoor Firebowl, and I purchased it online. I looked around and found that the best prices fluctuated between Walmart and Amazon. At the time of my purchase Amazon were cheaper and the Free Delivery is always a nice touch so I decided to go with them. See Today's Current Prices Here!*
Blue Rhino GAD860SP LP Features:
What I love about this gas fire pit is that it doesn't necessarily look like a gas firepit. It has a hidden control panel for the gas-flame management so it can easily be mistaken for a wood burning fireplace fairly easily. It includes:
Electronic ignition

easy to assemble

protective cover

Manufacturers 1 Year Warranty

40,000 Btu cast iron burner for plenty of heat and durability

41.26 by 41.26 by 21.7 (width by depth by height)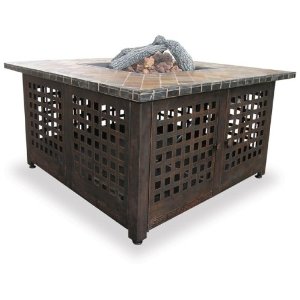 Blue Rhino Firebowl
The Blue Rhino Firebowl is perfect for a couple chilling out after a days work and powerful enough to kick out enough heat for some of the biggest family gatherings, but don't expect the power of the sun with the Blue Rhino Fire Pit. It emits a good bit of heat but it won't be like sitting indoors. I can now look forward to spending more time outside in winter and have even got a choice of outdoor fire pits to choose from. No more being stuck indoors all winter and I am very happy about this.
Go Back Up to See the Current Price on Amazon
*Please note the link above directs to amazon as I have found they offer great deals on propane fire pits.