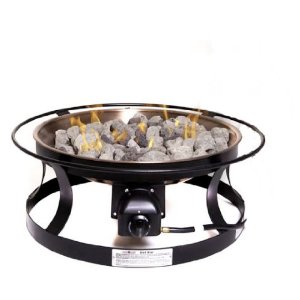 If you are looking for a small fire pit, then look no further than the Camp Chef Propane Del Rio FP29LG. This matchless ignition fire pit is the perfect size for any situation.
Features of the Camp Chef Del Rio FP29LG
The Camp Chef Del Rio measures 29 inches in diameter. The black bowl that sits on the base has a slightly smaller diameter of 24 inches. While some portable propane fire pits feature fake ceramic logs in the bowl, the Camp Chef Propane Del Rio uses decorative lava rocks instead. There are just enough lava rocks included to fit in the bowl and cover the burner.
The fire pit has a 55,000 BTU/Hr burner that is designed for use with a bulk propane tank. However, the Camp Chef fire pit does not come with an extra long hose to attach the fire pit to the propane tank. Instead, you need to purchase a separate 3/8″ male pipe thread x 3/8″ female pipe thread hose to attach the two together for use if you want to put a lot of space between the propane tank and the fire pit. If that is not of concern to you, then you can just the shorter hose that comes with the fire pit.
The Camp Chef Propane Del Rio fire pit is only intended for outdoor use. In fact, it a durable heavy gauge fire pit and it comes with an all-weather patio cover so that you can leave it on your patio or deck without worrying about it getting damage from the weather or other outdoor elements.
One of the great things about using this fire pit instead of building a fire with actual wood logs, is that you will not end up smelling like smoke by the end of the night. You also do not have to worry about ashes blowing around or possibly starting a forest fire from your little fire. And of course, you do not need to chop any wood!
Using The Camp Chef Propane Del Rio FP29LG Fire Pit
The Camp Chef Propane Del Rio fire pit is very easy to use, which makes having a fire anywhere a definite possibility. And when you are done enjoying your little fire, getting rid of it is just as easy as starting the fire. All you have to do is close the valve and your fire stops immediately. For safety, you will need to wait for the bowl and lava rocks to cool before covering the fire pit with its all-weather covering.
You can use the Camp Chef in pretty much any situation. It is perfect for taking on your next camping trip since it is portable and easy to use. Or, you can use it to do a little camping in your own backyard.
The fire pit is great for keeping warm on a cool night when sitting out on your patio with friends and family. You can even use it to roast some marshmallows for s'mores or if you are hungry, you can use it to roast some hot dogs or other goodies over the fire.
If you like to do a lot of tailgating during sports season, then this fire pit is a great way for you to both keep warm and make some quick food for your tailgating party. The fire pit can also be taken along with you on your next trip to the beach.
Things To Consider
If you are intending on using the Camp Chef Propane Del Rio FP29LG fire pit at home, then you might plan on putting it out on your patio or in the yard. The fire pit actually looks great on either the patio or in the yard, but it is important to remember to keep the fire pit covered when not in use. Otherwise, the black bowl part of the fire pit can get damaged from rain and other water in the air, which causes rusting in the bowl. It will actually rust fairly quickly, so it is important to not leave it out uncovered.
The Del Rio fire pit does sit very low to the ground. However, the flame size is fairly large, which should make it okay for keeping a small group of people warm on a cool night. If you find that it sits too low for you, then you can elevate it by sitting on a sturdy surface.
While the fire pit does only come with lava rocks, they can be replaced with ceramic logs. Unfortunately, Camp Chef does not offer the logs though, so you have to seek them out from another manufacturer.
*Please note the link above directs to amazon as I have found they offer great deals on fire pits.