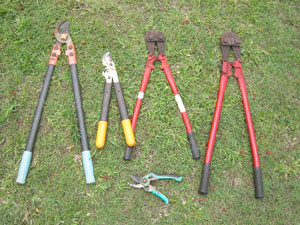 I'll admit it, I find it hard to walk out of a garden store without a new pruning tool of some kind. Over the years I've built up quite the collection: from small snappy hand pruners to powerful telescoping loppers. Here's just a few of the ones that I use on a regular basis in the garden.
My favorites feel like an extension to my body. They make pruning a joy whether I'm cutting a single white rose or hacking my way through thick branches. But not all my purchases have felt that way. There are certainly a few duds knocking around in my garden shed.
The duds have practically always been impulse buys that I've made (or presents from friends who are not gardeners). So a few months ago I decided it was time for me to review my collection and work out why I liked some pruners far more than others.
Here's what I realized:
I far prefer bypass pruners to anvil pruners when it comes to my primary tool. I find the curved blades allow me to make efficient, clean and precise cuts without crushing the plant stem. (Ratchet and anvil pruners do have a role to play when I'm cutting through plants, thick vines or dead wood, but they are really only for occasional use.)
My favorite pruners all have replaceable parts. And by that I mean every part of the pruner: springs, blades, nuts – you name it – can be replaced if worn.
A sap groove is a nice touch as it helps keep the cutting blade nice and clean. Keeping the sticky sap off the blade makes for a better cutting experience. Quite a few pruners these days have Teflon coated blades which tend not to collect so much residue.
Even though I've got some great non-slip gardening gloves, a pruner with comfortable, ergonomic handles will still make a great deal of difference to my comfort; especially after a few hours of heavy pruning.
When it comes to long reach pruners and loppers I find myself always reaching for the lightest tool in my collection. I think that's why I love this 32 inch Fiskars PowerGear Bypass Lopper so much. It's really easy to handle but still makes short work of practically anything I put in its jaws.
It doesn't matter how great the pruners perform, if they don't have a well-designed locking clasp, you'll soon give up on them. Even some of the best known manufactures can drop the ball on this one. The locking mechanism needs to keep the blades closed, but not so tightly that they can't be released easily. I've lost count of the number of top range pruners that sit unused for years, just because the clasping mechanism has jammed.
If I had to pick one garden tool that I could not do without, I think it would be my primary pruner. So next time I'm in a gardening shop I'll try and resist the temptation of choosing one just because it has nice red handles or a fancy looking logo. Choosing the right pruner to buy is more important than that.