If you are looking for the best outdoor fire pit, you should find the following information helpful. There are so many different makes, models, styles and designs of fire bowls and fire pit tables to choose from, it can be difficult to narrow down just what you want!
I have been hankering after a fire-pit for an age, and have done a LOT of research which might just help you out. But if you don't care what I think, and just want a great deal check out Amazon's massive range of fire pits . The store offers a fantastic range of firepits online at great discount prices…
They seem like the perfect way to stay warm in the evening outdoors, and to make your garden more versatile. I also love the fact that a fire is a great way to provide a focal point for gatherings and parties. But I have to admit to being a little disappointed with some of the models on offer.
After trudging around various garden suppliers, home decor shops and trawling the internet I have come up with a few particularly good buys.
Most of these mid-range priced items can be found cheaper on amazon than in bricks and mortar stores locally. Use the link above to view their entire range of backyard firepits.
Though if you are looking for a high-end piece you might need to deal with a specialist supplier. Plus, it is worth looking at the real thing initially so you get an idea of the quality of your favorite designs. There is a huge difference in quality and if you plan on using it a lot, you need any fire bowl to be pretty sturdy so it holds up to the repeated heating and cooling of fires, and remains safe to use.
Key Outdoor Fire Pit Types
When choosing your new piece of garden furniture, it makes sense to settle on a particular type of fire-pit, so we will have a look at each of the main styles on offer:
Fire Pit Tables
These are most often coffee table height. But you can find some more formal dining table style models that include usually a small bowl in the center. This can be used for a fire, or as an ice cooler depending on the time of year. These are great space savers, particularly if you choose a model that includes a flat cover for the bowl itself. That way you can use it as a traditional table during the day.
Camp Fire Rings
These are great if you go camping, or spend evenings at the beach a lot. A simple steel frame will fold out to provide a square or circular area into which you build a traditional fire. These make camp-fires more safe, but are not the best suited for formal gardens, since of course you will be burning wood directly on the ground.
Outdoor Fire Places
These can be very formal brick build fire-places that you might expect to see inside the house or small steel or iron pagoda style roofed mesh boxes which raise a wood fire up off the ground, and prevent sparks escaping. Often these are lightweight and so easily transportable.
Outdoor Fire Bowls & Tubs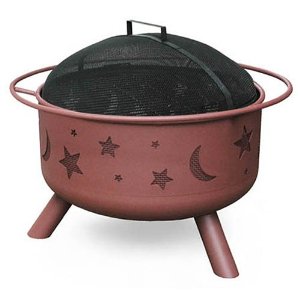 These vary in size, from tiny gas-powered bowls, to huge tubs. Usually supplied with a mesh spark screen, if not you should probably buy one for safety's sake, they sit low to the ground and so are usually very safe and sturdy. These will not double up as anything else in the garden, so choose wisely as heavier items will be difficult to move. A good cover is essential.
Chimineas.
These can be very ornate, and very pretty. But they have one distinct disadvantage to simple tubs, bowls, tables and rings. The fire itself is only viewable from one angle. This is great for a cosy evening under the stars, but not so welcoming when you have a crowd around to entertain.
The Best Fire Pit
Knowing which type to buy will help you find the best outdoor fire pit to suit your needs. For smaller yards a portable fire-place or multi-functional table is best. For larger spaces a permanent built-in fire-place might be an option. For many of us a simple bowl or tub is best. These provide the best focal point to a gathering, and they can often be the easiest to actually use.
We'll be having a look at some of the best buys within each category or style of fire pit, so stay tuned!