The best leaf blower is going to be different for each person and will vary according to three main factors:
The local laws and ordinances that govern which type of blower you can operate legally
The amount of power you need
If you can deal with dragging a cord around
More often than not, when most people ask me which leaf blower I recommend, I suggest they purchase the Toro 51599 Ultra 12 Amp Electric Blower / Vacuum with the metal impeller.
You Can Find It for Sale Here
*

*Please note the link above directs to amazon as I have found they offer great deals on Toro leaf blowers.
Why I recommend the Toro Electric Blower for Most People
There are three main reasons why I typically recommend this blower:
This is the model I own and love (more on that below)
It has sufficient blowing power to do what most people need
It's an electric hand-held leaf blower, and most municipalities allow it to be used
Why I Purchased the Toro 51599 Ultra Electric Blower
First off, if you are looking to purchase a leaf blower, I would recommend reading my article: How to Choose a Good Leaf Blower. The main reason I purchased the Toro is because it works great for what I need (remember, I do have several deciduous trees in my yard), it was relatively inexpensive, and it passes my local city laws/regulations. My city bans the use of gas-powered lawn blowers, so I looked at and compared several different electric models and found this one to be the most effective. You'll also notice from the number of Toro 51599 electric blower reviews online that I'm not the only one who loves this particular model.
Again, you can go back to my three criteria above:
Local Laws – I can only use an electric blower
I went with the most powerful electric blower
I don't mind dragging the cord around, and I do have to use a long extension cord. I tried the battery powered electric models, and they just don't produce enough power to get the job done.
The Features I Find Important on the Toro 51599 Handheld Blower
Essentially, for under $100 you get a great time-saving tool that will last and has enough juice to do most tough jobs. You also get the following features:
You get a blower, vacuum, and leaf shredder in one machine

which allows you to save a lot in terms of garbage bag usage. The blower we already talked about above. I found the vacuum to be decent, and the shredder to be so-so. If you are looking for a vacuum/shredder that will pick up and shred wet leaves and debris then this probably isn't the model for you, but for dry stuff it does a good job.

Metal Impelle

r. This one is important for shredding. Don't buy the cheaper Toro models that use a vinyl impeller, or you will regret ever trying to shred even the lightest leaves.

Two Year Warranty

. Just make sure you register the product properly and keep all your documents (receipt, etc.) in a safe place (although hopefully you won't ever need it).
Other Models I Recommend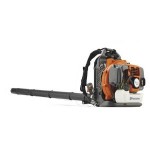 When it comes to electric leaf blowers, this is main model I recommend. However, if you are allowed to use a gas powered handheld blower, need the extra power, and have the budget, I would recommend purchasing a back-pack blower. You will get more power, and they are much easier to use (just make sure you follow standard safety guidelines). The Husqvarna 350BT leaf blower is the model I would recommend if this is the case. It has great power, is extremely effective, and the price is around $300 (you can also get a discount by following that link above).