I went to college in the south where I met my husband. He wasn't from the area, so it was no surprise when he proposed that we move back to his home state, up north, after getting married. As a lifelong southerner, I was excited by the prospect of having my first White Christmas.
My first winter in up north was quite the experience. I had never seen snow and now it was all that I was seeing. All winter long it was snow, snow, and snow followed by more snow. Since we lived in an apartment complex the first two years, we did not have to deal with snow removal. However, once we bought a home of our own it quickly became apparent that a snow shovel was not going to cut it. It seemed like the snow storms were dumping snow at a rate faster than we could shovel.
When my husband got word that his company was going to be sending him out of town for two months, we decided it was time to check out some snow thrower reviews. I think we both knew that my puny arm muscles would result in the house getting snowed in if I attempted to shovel all the snow by myself.
Finding The Best Snow Blowers
Despite having grown up in the state, Matt was just as clueless as I was when it came to shopping for one of these machines. We were determined to get a quality machine and relied on reviews to steer us in the right direction.
We were looking for snow throwers with:
mostly positive reviews,
high quality components, something that is
eco-friendly, something that is
easy to maneuver with
large wheels
adjustable handle
It took us a while to go through all of the snow blowers reviews before coming up with some real possibilities. And after coming up with a list of possible snow throwers we might be interested in, we had to visit some of our local home improvement and tool stores to get a look at the machines. The visual inspection allowed us to confirm the quality of the snow blowers that were on our shopping list. We discovered that some of them seemed to be made of cheap plastic or had tiny wheels, neither of which met our needs.
After what seemed like an endless search, we finally settled upon a snow thrower made by Greenworks company. It seemed to be the perfect brand for us since the company focuses on creating lawn tools and yard tools that are environmentally responsible and leave no carbon footprint. Of course, that did not mean that it would perform beautifully. Before leaving the store, we also picked up some outdoor extension cords, which would allow us to reach all the way to the end of the driveway.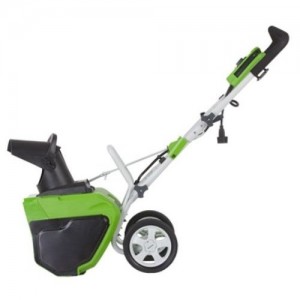 Trying Out The Snow Thrower For The First Time
I was lucky that we got a pretty decent snow before Matt had to leave on his business trip. This meant that we could try out the new Greenworks 26032 20-Inch 12 Amp Electric Snow Thrower together.
When we raised the garage door a light snow was still falling. I plugged the extension cords into the outlet as Matt got the machine ready for use. He adjusted the handle so that it was high enough for him and set out on clearing the driveway. Within 10 minutes he was back at the garage and the driveway was completely clear. Since he had left the side walkway for me, I lowered the handle and prepared to give it a try.
This would be the real test for the machine, since I would be using it on my own for the next few months. Immediately, I was impressed with how effortless the Greenworks 26032 moved the snow off the walkway. It has a chute that you can adjust to different directions. I did not realize this at first and ended up shooting the snow back about seven feet to where Matt was standing. Once I realized it though, I changed the direction to get the snow aimed away from Matt and the already cleared area. Within five minutes time, I had cleared the entire side walkway. It was a breeze, but I was concerned how the machine would handle other types of snow because this was a soft, powdery snow.
How Does The Greenworks 26032 Electric Snow Thrower Handle Other Types Of Snow?
It was only a few days later when I got to test out the Greenworks Electric Snow Thrower all by myself. This time the snow was more of a wet snow and ice mixture. I admit, I was a little worried at first that it would not be as easy as the first time around. Fifteen minutes later I realized that I had nothing to worry about. Not only did I get the entire driveway cleared of the snow, but I did the side walkway as well. Everything was just as clear as the first time around.
Later in the day, after snow plows went down our street, I got the snow thrower back out. More snow had fallen, but I also had a slushy mess from the snow plows to deal with down at the end of the driveway. By this point, my hopes were pretty high for this machine, so I headed right for the slush pile. As expected, the Greenworks snow blower had no problem getting the slush out of the way.
The machine even got some of the bottom layer of ice up off the driveway. For the remainder of the ice layer, I opted to use a little rock salt and my trusty snow shovel. I was afraid that the blades of the snow thrower might get damaged trying to remove the ice layer. And it's not like my arms were tired since I did not have to shovel any of the snow or slush.
Greenworks 26032 Electric Snow Thrower Review, A Re-Cap
The Greenworks 26032 12 watt is:
Environmentally Responsible, releases no emissions
Four year warranty
Adjustable Handle
Quick and Efficient
Lightweight enough for women to use
Clears a 20 inch path with one pass
Clears a depth of up to 10 inches
8 inch wheels
will shoot the snow up to 20 feet away, so you can put the snow where you want it
cord lock
weighs 37 pounds
My Favorite Features Of The Greenworks 26032 Electric Snow Thrower
I really love the blades of this machine. Whoever decided to cover them with rubber is an absolute genius! The rubber makes the blades much more efficient at sucking up as much snow as possible.
I also love the cord lock feature. It keeps the cord from getting in the way while you are out getting the job done. Has anyone else ever gotten so tangled up in a cord that they fell over, or is that just me? Moving on…
The four year warranty is amazing. Four years? Really? My toaster doesn't even have a four year warranty.
So, to sum it up, this snow thrower has made me feel like an arctic wife extraordinaire. I am able to keep our driveway and walkway clear, all by myself, with a little help from the 26032.
Amazon offers the best price that I have found for the Greenworks 12 amp snow thrower, and it also qualifies for free shipping. It's convenient, especially if you are already snowed in.
Click here to check the current price lowest price!*
*Please note the link above directs to amazon as I have found they offer great deals on the Greenworks 26032.