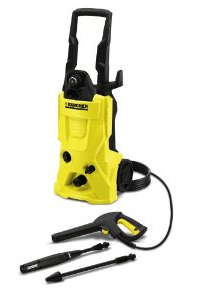 We have a very large backyard fence so when it comes time to paint it (which happens more that we care to think about due to poor quality wood that was used to build the fence) we don't want to have to scrape the old paint off the fence before painting. My husband is all about time-saving so after the first time of scraping and repainting he decided that he would buy a pressure washer to spray off any loose paint chips. Neither of us were crazy about the thought of pulling out the paint scrapers and putting our backs into it again! Not only did it go quicker the second time around by using a pressure washer but it was much less labor intensive than scraping.
As we didn't plan on using a pressure washer all the time, we really only needed a smaller model of washer and even thought that electric would work for our needs. As I am the resident computer geek in our home, it was my duty to find our next garden purchase….our pressure washer.
Read Our Karcher K 3.540 X-Series Electric Pressure Washer Review
Features
From reading different reviews and checking out Amazon, we decided to buy the Karcher K 3.540 X-Series 1800-PSI 1.5-GPM Electric Pressure Washer*. Not only did it get good reviews from other users but it was affordable and fit our budget. As we were only using it for a few smaller projects, we didn't need a larger machine though Karcher does put out pressure washers that are bigger and have more power – of course you then get the added cost factor as well :). The Karcher 3.540 model has the following features:
1800 PSI
25 Ft High Pressure Hose
1.5 GPM N-Cor Pump
Water Cooled Induction Motor
Quick Connect System
Attached Removable Detergent Tank
Trigger Gun with 2 Wands
Model
Founded in 1935 by Alfred Karcher, an inventor from Germany, this family owned company is known for their innovative cleaning equipment which includes the Karcher K 3.540 pressure washer. This pressure washer is part of their X-Series and is a mid-level unit in their product line-up.
PSI
The Karcher 3.540 pressure washer packs a punch with its 1800 PSI (Pounds Per Square Inch) and is perfect for residential use wIth plenty of power to wash your deck or sidewalks. We found that it worked perfectly for taking off our paint chips on our fence – made less work for what could have been a time-consuming job.
Power Supply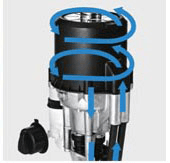 This Karcher electric pressure washer is powered by 120V and is run with Karcher's advanced powerful water-cooled induction motor. Water is circulated around the motor which in turn lowers its operating temperature. This actually helps improve its performance and prolongs motor life so you aren't out shopping for a new pressure washer after a few uses. This pressure washer also has a GFI built into the plugin which provides protection from the risk of electrical shock.
Water Volume
With 1.5 GPM (gallons per minute), the Karcher 3.540 pressure washer has a direct-drive axial pump (N-Cor Pump) which is made from non-corrosive, durable polymer. What makes this particular model handy is that you can actually get water from any standing or collected water source if you don't have access to a water spout ( you will need to get the accessory to do this if you plan on using your washer off site.)
Warranty
The Karcher K 3.540 pressure washer has a 1 year limited warranty and is eligible for its 'Rapid Exchange Program' – this means that if for some reason your new Karcher electric pressure washer bites the dust during the warranty period, that you get a free replacement rather than dealing with a traditional repair program. It means less down time as you aren't waiting weeks for your pressure washer to be fixed.
Dimensions
Measuring 34″ in height with a width of 13″ , the upright Karcher 3.540 electric pressure washer weighs about 27 lbs making it is easy to manoeuvre around with its ergonomic design when you are cleaning your vinyl siding or doing spring cleaning on your backyard deck.
Additional Features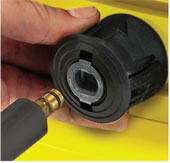 Attached Detergent Tank – The K 3.540 model comes with detergent tank that makes applying detergent to your cleaning easy. It also has an adjustable detergent flow dial, which allows you to control the amount of detergent you use which saves you money.
Quick Connect System – This Karcher pressure washer comes with the Quick Connect System which allows you to simply push your hose and wand into place with a click. Set up is fast and easy which start-up time reduced up to 50%.
Included Accessories
Trigger Gun – The included quick-connect trigger gun has a child safety lock to ensure that no inquisitive children accidentally turn on the spray. It easily connects to your high pressure hose with the quick connect system – that means you aren't trying to line up male/female connections which can be a hassle. What also is good is that when you release the trigger handle on the wand the motor shuts off which will help extend the life of your pump.
High Pressure Hose – With a 25-ft high-pressure hose, you can reach every nook and cranny that needs to be cleaned. No more pulling your washer over as you take a step forward.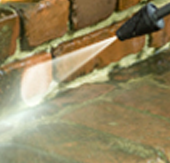 VPS Power Spra y Wand – Looking to do some light cleaning? Using the Vario Power Spray (VPS) wand allows you to adjust water pressure level right at the wand and is great for average use.
DirtBlaster Spray Wand – If you are trying to get some major dirt off of a sidewalk or like us, you are taking paint off a fence then use the DirtBlaser Spray wand. This wand is NOT the one you want to use on your car or house siding unless you want to pay for damages! It is a very powerful wand and you want to use it with caution. The nozzle on the DirtBlaster features a 0 degree pencil sized jet which rotates 360 degrees increasing pressure up to 50% more to help cut through dirt and debris. Before using this wand, you may want to try it out on some inconspicuous area as you don't want to find out the hard way that it is too much power for what you need.
Compatible Attachments – Karcher has many compatible extension wands, brushes and environmentally friendly detergents that can be purchased and used with the 3.540 model such as the Karcher T-Racer.
Storage
The Karcher 3.540 pressure washer stores easily…it is just a matter of wrapping up the high-pressure hose around the handle and putting it away. If you don't plan on using it for a while or are winterizing your washer here are a few tips:
Ensure that all water connections are disconnected.
Quickly turn on your washer for a few seconds so that all the water that is in the pump gets out – then turn it off right away.
Loop your pressure hose so that it doesn't get any kinks.
Store your pressure washer somewhere where it does not go below freezing temps. Use caution when storing it as you don't want to place it near any heat sources such as your furnace as it can cause the pump to malfunction.
Pros & Cons
Pros


With its 1 year limited warranty and Rapid Exchange program, you are covered if something goes wrong during this period. We found the Karcher 3.540 1800 PSI pressure washer lightweight and easy to manuever and pack along. We also liked that it stores easily without taking up too much space in our garage. What makes it great about using this electric pressure washer is that you don't have to worry about refuelling half way through a job or worry about forgetting the oil. It is also much quieter than your traditional gas pressure washer – you can wash your sidewalk whenever you want instead of worrying about waking up your neighbours!
Cons

Presently, we haven't found any complaints in regards to our new pressure washer. It would have been nice if we could have and some type of hooks to wrap the pressure hose around however it is just as easy to wrap the hose around the handle so that it doesn't get kinks in it.
Consumer Reviews
According to Amazon.com the Karcher K 3.540 electric pressure washer is rated at 4.8 out of 5 stars. Here is a quote from another happy customer:
"The Karcher K 3.540 X-Series is an Excellent value for a light duty electric pressure washer. This unit has higher quality components and seems to be better engineered than others at this price point."
Price
This is a mid-price pressure washer from Karcher which is a good deal for how much PSI you get. We were able to get our Karcher K3.540 electric pressure washer at Amazon for a little more than $200 including free shipping at the time of this review.

*Please note the link above directs to amazon as I have found they offer great deals on Karcher pressure washers.