Out with the old pressure washer
Every spring would see me dragging out my old electric pressure washer and tackle what was about my most hated spring chore, that being washing off a winter's grime and dirt from just about everything we owned and that lived in the backyard. Things like:
Bird Baths
Water Fountains
Deck surfaces
Patio Furniture
Driveway concrete
Garage Floors
The house exterior walls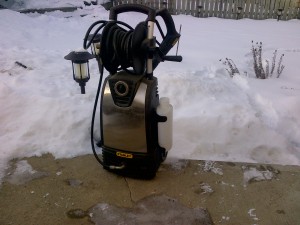 In retrospect, one of the reasons it was a hated chore was because of the equipment I was using. You see I'd had that little electric pressure washer for longer than I care to remember, and though it made a dickens of a racket when running, it did very little else really. It certainly didn't do a great job at cleaning, and was really messy to operate. By the end of a day running it, I was covered in muck and mud form having to compensate for the shortfalls of the washer by getting too close to the work area, my ears would be ringing from the racket, and I'd be swearing that was the last time I'd run that crappy little washer.
Then I'd put it away & forget about it until next year!
Winter came and went
Forgetting to drain it properly last fall fixed that though, as winter did it's magic by freezing the water in the unit, and of course expanding and breaking it. It came at a bit of a bad time as cash was a bit tight, and I knew I'd not be buying a cheap electric model ever again, and the gasoline powered pressure washers I had my eye on were a bit pricey.
My wife offered the perfect solution; why not rent one for a weekend?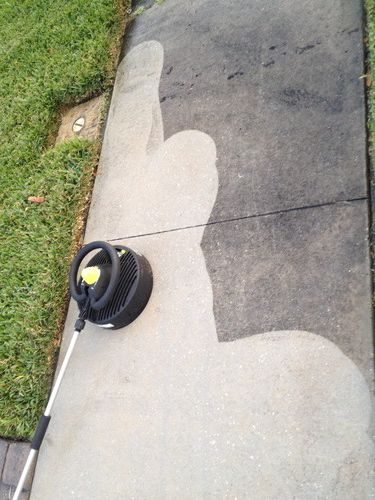 This was actually a great idea, as it gave me a couple of days operating a particular model, and it was pretty easy to determine any short comings it had, as well as figure out any features I absolutely needed.
I can't even remember the model of the one I rented, but it's brand was a Karcher, nor did I know what pressure it washed at, but I do know it was SO much better than the little electric job I'd struggled with for years.
It started on the first pull, it ran for a couple of hours on a tankful, it literally blasted mildew & mould off our white resin patio furniture – some thing the old washer took hours to do – and was a dream come true when it came to washing off the walls of the house and garage.
Blew gutters clean of leaves & trash, cleaned out the bar b que, man I didn't want to turn that thing off.
Up selling a T Racer Wide Area Surface Cleaner
The chap at the rental office had made a valiant effort of "up selling" me to an attachment he said I'd find indispensable when it came to cleaning the concrete driveway and our outdoor deck and pool area. He called it a wide area surface cleaner.
Being the cheap beggar I am, I declined the opportunity to spend another $10/day, and figured I'd be able to do a decent job on the deck and driveway without it.
How wrong can you be!
It took about 20 minutes of deck cleaning to realize that this pressure washer was an entirely different animal than what I was used to. This baby actually cleaned! I mean one pass over the deck, and a years accumulation of mildew from under the hanging baskets was gone! The trouble was it had so much pressure and cleaning power it was almost impossible to maintain the wand at a constant distance from the cleaning area, and I ended up with a mess of streaks.
Back to the rental shop, suffered a withering "I told you so" look, and parted with another ten bucks!
The correct name for this attachment is the Karcher 2.641-005.0 Pressure Washer T-Racer Wide Area Surface Cleaner T350 and the best place to purchase one is on Amazon
If you've ever done any pressure washing of decks, pool areas or concrete you'll know how difficult it is to maintain that uniform distance and do your cleaning without those awful streaks. Even if you do master a steady distance, the sideways motion of swinging the wand will inevitably cause streaks at the end of each pass, as you effectively do a double clean on the edges.
A simple Attachment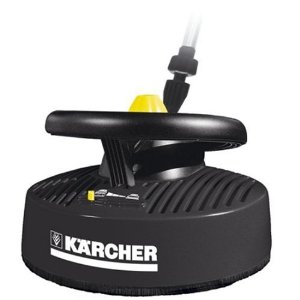 The Wide Area Surface Cleaner is a simple attachment that fits on the end of the wand, and hovers over a 12″ swath. There are two height adjustable nozzles that spin at really high speeds, and they do a great job of streak fee cleaning. The nozzles are within the housing of the unit, meaning that it eliminates the splash back & spattering is a part of pressure washing with a wand alone.
In fact it did such a good job of containing the debris it "lifted" that I found I needed to have another hose nearby, so I could periodically wash off the area.
This being the tradeoff for doing a couple of hours washing without being covered from head to toe in muck is a trade I'll gladly take!
Operating it is simplicity at it's finest, just a gentle sideways, sweeping motion, as you slowly advance forward was the method I preferred. It's actually fun and easy, and best of all no aching back or arms, as it weighs in at just 6lbs.
Once you've done with the surface areas, just slip off the T Racer and you're back to a regular washer for cleaning other items.
Now that my Rental Shop has "exposed" me to how great the T Racer is, I know it'll be the deciding factor in what model of Gasoline Powered Pressure Washer I'll be looking for this winter. It's designed to fit all Karcher models that have a rating of 2450 – 2600 PSI, more than adequate pressures for anything I'll ever need.
When researching products online, I always check in on Amazon, and in particular the review section, as you get a real cross section of people's experiences, and nothing is "vetted", so you get the good, the bad & the ugly.

The T Racer Wide Area Surface Cleaner is currently showing 56 reviews, with 42 of them being 5 star and 9 of them 4 star. Not a bad recommendation I'd say!