Having a simple purpose made compost pail on your kitchen counter is the easiest way to encourage all the family to recycle their kitchen scraps. Keeping the counter tidy and odour free are the key benefits of the very best compost crocks available today. If you enjoy your garden and enjoy good food you really should be composting as much kitchen waste and garden clippings as possible. And, if you want your kitchen to remain presentable it pays to take advantage of the specially designed compost pails now available.
There are compost keepers to suit every style of kitchen and size of family:
or continue reading to find which compost crock will best suit your needs…
If however you're not yet sure if a compost pail is worth buying please check out my other article which details just why I love my compost crock so much! Or if you are wondering what you need to look for in a compost pail please read on. Then you will discover which are the best kitchen compost containers available today…
Compost Pail Features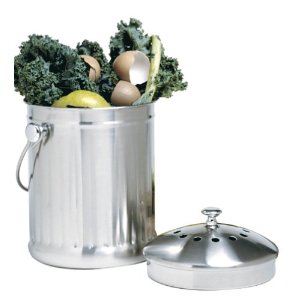 Let's be honest you don't have to buy a compost keeper for the countertop. Like most of us, I personally made do with bowls and plastic containers for years before deciding my kitchen should look a little less like the garden, and eventually bought myself one! The reason to choose a specially designed bucket is to remove unsightly scraps, prevent unwanted smells, and encourage the whole family to safe their peelings, coffee grounds and so on. To make the purchase worthwhile any crock should meet the following criteria:
The compost crock should be made of a non-porous material so as not to absorb smells.
It should have a sturdy handle to make carrying it out into the yard easy.
The lid should fit very well.
Charcoal filters that fit inside the lid are a must to prevent smells.
The filters should fit snugly against the inside of the lid to prevent fruit fly problems.
It should be of a good enough size so you won't need to empty it more than once a day.
It needs to fit in with your kitchen decor.
Most countertop compost crocks are steel or ceramic. Whilst ceramic versions will look great in a more traditional kitchen design they have one disadvantage – they are easy to break, particularly when taking them outside to your garden composter. If you are going to choose ceramic it might be a good choice to buy a larger one that incorporates a plastic inner bucket so you only take that out into the yard. However do remember that the plastic is likely to absorb odors (but at least should be dishwasher safe).
Best Compost Pails
Of course you will want a design that suits your kitchen decor, so I cannot say which is the best pail for collecting your compostable kitchen scraps. But I have to say I went with the Norpro 1 gallon compost pail pictured above. I have had mine for a little under two years. We create a lot of kitchen waste as we grow our own veg and love to cook. In all that time it has served us brilliantly, so I would highly recommend it.
It is large enough that it doesn't need emptying too often. The satin finish means it doesn't show up finger marks too much, and the solid construction means that even when one of the kids drops it on the way back from the compost tumbler it seems to survive unscathed (well so far at least, but I do keep asking them to be a bit more careful!).