What my granddaughters taught me about valuing what's precious, like our old rustic bird feeders.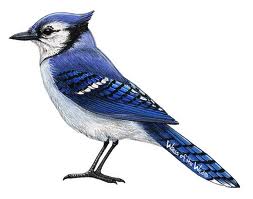 We live in a part of Western Canada that has been blessed with a delightful species of bird, the Blue Jay. Now Blue Jays to some people are actually regarded as a bit of a pest, more so because of their habit of letting you know when they're around with their never ending squawking. It is actually part of the Crow family, probably where it got it's screechy cry from, but to me it's simply the sound of life in our beloved backyard.
There presence is also a delight to my grandchildren when they come for visits. I never have to be told when the girls are coming because when I arrive home there will be a bag of peanuts, the bluejays favourite food, lying on the bench on the girl's outdoor playhouse, a subtle hint from my wife that the girls are coming and will be wanting to spend time with Poppa "feeding the birdies". This has become a ritual, and they (as do I) take great delight in taking old rustic bird feeders that we've had around for over 20 years, and hand filling the feed canister with the raw peanuts in the shell. It's quite a laborious process, as their tiny hands spill more than they fill, which I guess is part of the fun, as these spills seemed to get shelled and popped into their mouths pretty regularly.
Old rustic bird feeders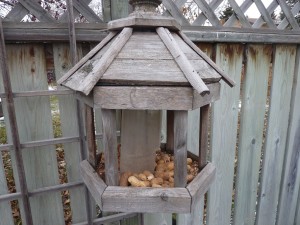 These old rustic bird feeders has served us well, as I recall getting it for a birthday present from the girls Daddy's many years ago, in fact when they were about the same age as their daughters are now. Made from cedar, it's now been well weathered by our harsh Canadian climate, the plastic canister for the feed tank is broken and duct taped, the roof panels are broken and some missing, and the feeding tray pretty much rotted out. In fact it's so decrepit looking that I treated myself to a brand new, modern, squirrel proof feeder, made from a polished metal, that was very attractive, and very expensive.
I remember setting it up with anticipation of the excitement the girls would have when they first saw it, and with how much easier it would be for the blue jays to feast on the peanuts without having to perch on broken slats and such.
But a funny thing happened….
Neither the girls nor the bluejays wanted anything to do with it! The bluejays in particular were most vocal in their disdain, and the girls, it seemed had become so used to helping Poppa with the old rustic bird feeders that they too, shunned it and they made me resurrect it from where I'd dumped it.
Back to the rickety old rustic bird feeders
So, we're back to those rickety old rustic bird feeders hanging from the fence and my fancy new squirrel proof feeder sitting in it's box under my workbench, but I do have happy granddaughters and quieter Bluejays, so all is not bad!