In this article I talked about how lawn aeration can help your lawn to become better at draining of water, and how it also helps to get vital nutrients to where they are needed, the roots of your grass.
So I thought it might be a good idea to take a look at the different lawn aerators that are available, then you should have a better idea at which one will suit you, and your lawn.
There is no point in buying something that is meant for a large garden, if you only have a small patch of lawn. But buying something that is not up to the job will make really hard work of an easy job.
Here you can find the best selection and prices for lawn aerators*.
Lawn Aerator Shoes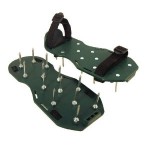 I just love the look of these, an instrument of torture if ever I have seen one! But your garden will love them. Simple to use in that they just strap over your shoes, and then you walk around your lawn. The spikes are about 2 inches in length, which is a good depth, and because they have your weight behind them they do penetrate the ground well. Reasonably priced, and if you have uneven ground then they are a good choice, plus you get exercise too.
Rolling Lawn Aerator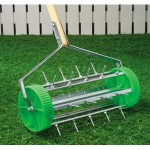 These look as if they would be simple to use, but they do lack the weight that is needed to really push the 2inch spike into the ground. If your ground is too compacted, or it is very dry you may struggle with one of these. So I don't really recommend them, even though they look the part, and are reasonably priced. They may be better used if you are looking at something that will help with preventing compaction, rather than curing it.
Core Lawn Aerator
A core lawn aerator works slightly differently, as you push it into the ground it lifts out small "cores" of dirt, giving your lawn plenty of air and helps to stimulate your grass. It works very effectively, just keep pushing it into the ground, you then pull it up and as you push it into the ground again the dirt gets pushed out. When you are done you will probably need to use a stick to push out the soil that may remain inside from your last dig. Again, reasonably priced and good at aerating the ground.
Tow Plug Aerator
These are the most expensive lawn aerators, and you need to have a ride on mower to tow it. If you have a big yard then this might be what you need, it's a little bit much for me. However I think that this would be the ideal aerator for those with a big area, otherwise it would take to long to do your whole lawn. They are effective, you have to add extra weight to get the spikes to really penetrate the ground, but this is not a problem because they are generally well designed for this.
The Best Lawn Aerator
Well in my opinion the core lawn aerator is the most effective if you have a relatively small area and plenty of time to do it. I think they are great value for money, should last make your ground much better at draining.
However if you have a really big area to aerate, and already have a ride on mower, then the an aerator that you can tow is really the only option. Follow these tips on lawn aeration to get the job done quickly.
*Please note the link above directs to amazon as I have found they offer great deals on lawn aerators.