Ok, so the time has come to retire the worn out contraption you've been using for fertilizing your lawn, and you've done your research and decided that the better of the two types of spreaders is the broadcast type vs the dribble type. Wise decision, as there is no comparison in my humble opinion.
Let's say you've chosen the Earthway 2150 Lawn Spreader , one of the better models out there, and have spent a pleasant hour or so doing the simple assembly, read the instructions, purchased the right N – P – K blend of lawn fertilizer and you're ready to start breathing some life into your lawn that's been a bit neglected due to the lack of a decent spreader.
What's the #1 thing you can do to get the best out of your new lawn fertilizer spreader?
Make sure you spread evenly…..
Though broadcast types of spreaders are known for delivering an even spread pattern, and the Earthway 5120 certainly does that, you can really enhance how evenly your spreading job is with this simple tip.
First calculate how much granular fertilizer you're going to need for the entire job, then load just 1/2 of that into the hopper. What we're aiming for is to spread the entire lawn at 1/2 the rate you'd calculated on, then do a second application with the other 1/2 of the product, but this time in the opposite direction.
Do like the farmer does – use a "headland"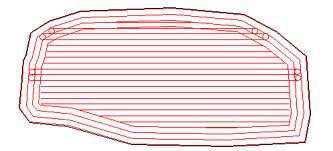 Whenever a farmer works a field he never never travels in the same direction every time. He'll always start with a "headland", then travel the field in opposite directions, thus eliminating any misses. By "headland" I mean one pass around the outer edge of the entire lawn area, then travel back and forth, turning on the headland.
Lets's say your lawn is roughly in a rectangular shape, by travelling the entire perimeter as your headland, you can then travel back and forwards spreading, then switching the fertilizer gate off as you turn on the edge (headland) that has already been spread. This should be accomplished using 50% of the fertilizer ultimately required.
With the subsequent 50% it's very easy to travel in the opposite direction, again turning on the headland.
Once you are understanding lawn fertilizer basics, you'll find that splitting the job into two applications, done at a 90 degree angle to each other will completely eliminate any potential misses, and ensure you get the most evenly spread fertilizer application possible.