Specifically a Black & Decker LPP120 20-Volt Lithium-Ion Cordless Pole Saw
We have a beautiful, Cutleaf Weeping Birch tree gracing our front yard, that was lovingly planted some thirty years ago and then nurtured to survive our frigid winters for many years, until it "took hold" and seemed to look after itself.
Well almost. It does need a little help each spring as our part of the world has a nasty little pest called the Birch Leafminer, that if left untended will wreck the foliage of even established trees, as it burrows into the emerging leaves and literally sucks the life right out of them.
Fortunately, there is an insecticide that has been around for a long time, that effectively annihilates this pest with just a simple application, to either the tree's trunk, or as a soil drench within the tree's drip line. And it smells really bad!
Unfortunately, our Provincial Government bowed to pressure from some fringe activists and banned the sale of it a few years ago. As a result, once everybody's bottles of it got used up, the birch leafminer had an explosion in population and trees everywhere slowly succumbed to their sap sucking appetites.
Banned from Sale – Not From Using
Noticed I said banned from sale? Not banned from using? Well, this insecticide has many uses it turns out, and our neighbouring province uses the product in many horticultural practices. The trouble is as it's an Agricultural product, the smallest quantity available was a 10 litre jug, not the 500 ml bottle (that lasts years for treating a single tree) that I was used to
Love that Tree
However, sometimes when you want something bad enough, you just have to suck it up, reach for the wallet, open it up, let the moths out, and just pay the price! So, on returning from a trip a couple of years ago, I returned with a full 10 liters, enough to treat every Weeping Birch in the entire neighbourhood for years to come.
But I couldn't sell it, remember?
But nobody said I couldn't give it away! And that's exactly what I did. I spoke with most neighbours that had Weeping Birch trees that were a mess of dried out, crinkly leaves, and pointed out our lush green specimen, with its leaf laden branches drooping & swaying in the breeze. They to could have their tree's looking the same, but there had to be a little barter involved.
The most common barter was a small bottle of the pesticide in exchange for a donation to Stars, our local helicopter air ambulance service. But there were a few barters for some yard help as well. Let me tell you about one that was a big help for me.
Pruning The Weeping Birch
Now the branches on these Weeping Birches, by their very nature, are pretty fragile, and seem to have an aversion to wind. Every year there was a number of branches that wouldn't spring back to life, and needed removing. When the tree was small it wasn't a big deal as some hand pruners would do the trick, but once it got beyond 20 ft it was a different story.
Charley & His Cordless Pole Saw To The Rescue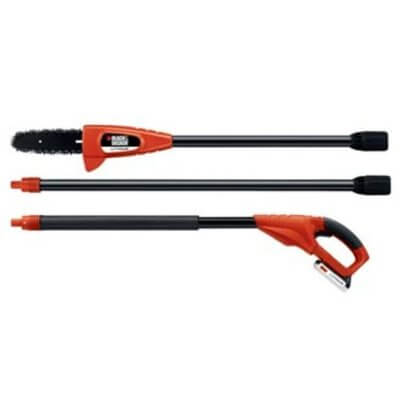 One of my barters was having Charley from a couple of streets away come and prune the deadwood out of my tree in exchange for his bottle of Dimethoate. Now, Charley's one of those guys that has a tool for everything, and he turned up with the neatest unit, called a Black & Decker LPP120 20-Volt Lithium-Ion Cordless Pole Saw. To say that I was impressed would be an understatement! This lightweight pole saw had all the unsightly dead branches removed in about 10 minutes flat, and Charley never even used a ladder.
I'm a real fan of cordless, in fact one of my favorite garden tools that I own is another Black & Decker product, the ccc3000 cordless electric lawncare centre and the Pole Saw is equally impressive.
The features of this tool that really stood out for me:-
Operates on a 20 volt Lithium Ion battery. If you know anything about voltages there is a HUGE difference in power output with 20 volts vs. 16 volts on some other brands. Lithium Ion also gives roughly 500% more battery life than a regular Ni Cad battery commonly used in lesser cordless tools. This battery is said to give 150 cuts through a 1.5inch tree limb. That's a lot of cutting!
This unit has an 8″ blade, meaning that you can effectively cut a full 6″ limb. Not that you would be doing this all day, everyday, it's not a chainsaw after all, but pretty sweet if you have the odd bigger limb to prune.
The unit has an adjustable center pole that slides in and out giving an effective reach of between 6.5 & 10 feet, with an over head reach of about 14 feet. Couple that with the height of the operator and you won't need a step-ladder for most tree pruning.
Very easy to move around between crowded tree limbs as the cutting bar is directly inline with the handle unit. Great visibility of the cutter bar as well.
Perhaps the neatest feature is the ability to interchange the battery with other Black & Decker 20 volt Garden Tools. Couple that with the Energy Star Qualified charger that will fully charge a dead battery in just eight hours and you have a TON of battery life.
I tried my hand at pruning and was amazed at how light this unit was, and perfectly balanced too. Really easy to use, and it will run for over an hour of pretty constant pruning, more than long enough for my birch. However we also have a few apple trees that have become a bit neglected so ….
Charley has offered to limb my trees in exchange for my "tree juice" for the coming years, but I kind of like my own stuff, so have been dropping copious hints to my better half, leaving the laptop open on Amazon's Black & Decker LPP120 20-Volt Lithium-Ion Cordless Pole Saw* page, (I even signed her up for an Amazon account), leaving brochures around, & raving to anybody that'll listen just how great it is.
Do you think she'll get the hint?
*Please note the link above directs to amazon as I have found they offer great deals on cordless pole saws.